Professionals
Are you the owner of a restaurant, a sommelier  or do you regularly sell wine or champagne to a clientele of wine amateurs, then the QelviQ is maybe the solution for you.
It is no secret that the wine and champagne consumption constitutes a substantial part of your turnover but even more importantly of your profit. It need careful consideration how you can raise your profits and in the meantime offer a much better experience to your customers.
The QelviQ just does that. Wine tastes better at the ideal wine serving temperature so wine lovers will enjoy it even more and order more and especially BETTER wine.
It is certainly extra motivating that the introduction of the QelviQ will show a clear desire by your company to innovate which will be appreciated by many customers
As the testimonials of our sommeliers and experts clearly showed, it will also be greatly appreciated by your staff as they can better service their customers and can concentrate on talking about ideal foodpairings and other relevant info for the customer. There will also be considerably time won by avoiding back and forth walking to the wine fridges or wine buckets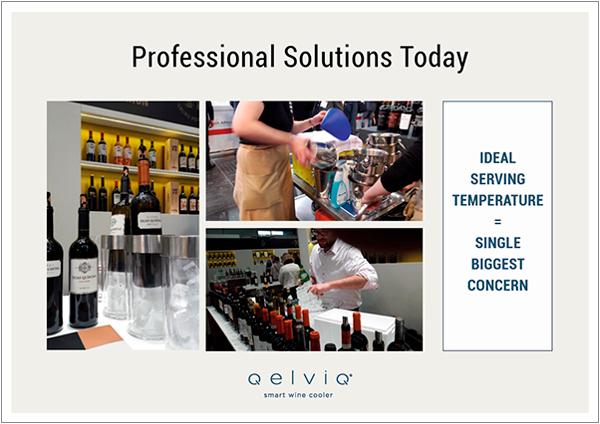 Professional Solutions Today
Main Advantages:
More turnover
Better Service for wine lovers
Less cost by minimizing lost time
High Tech Solution with Low Maintenance
Special module for multiple coolers in the QelviQ Temperature App
Special products for professionals:
Sidetable for Wine Cooler (at the launch of the wine cooler)
Working Table for Multiple Wine Coolers in development)
For More info you can leave your email address here with further questions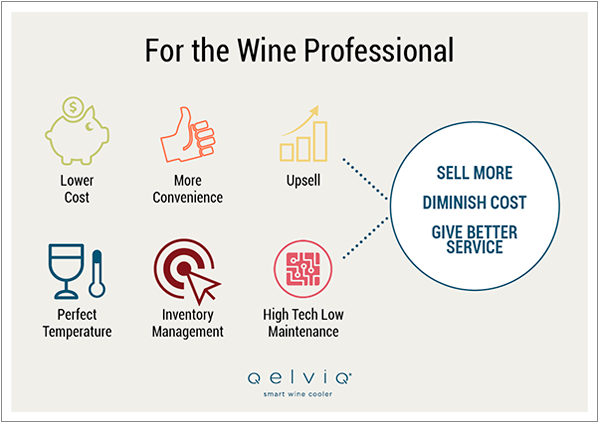 For the Wine Professional