Copy of Frequently Asked Questions
TRENDING
What is QelviQ in brief?
The QelviQ Personal Sommelier is a beautifully designed portable temperature control device that brings every type of wine to its ideal serving temperature. When paired with the accompanying QelviQ App, it really does become your personal digital sommelier in delivering what is truly the ultimate wine experience.
When the highly advanced QelviQ hardware and software are connected, a system using state-of-the-art, internet-of-things technology is set in place for solving that last mile of your wine's journey. Significantly QelviQ measures the temperature of the wine in the bottle and automatically ensures that it reaches the correct temperature-and stays there! The connected QelviQ App, with its database of over 350,000 wines with their ideal serving temperature (based on grape and terroir - and available in seven languages), sends the ideal temperature of your specific wine to your QelviQ with one touch of a screen, and also keeps track of your wine inventory.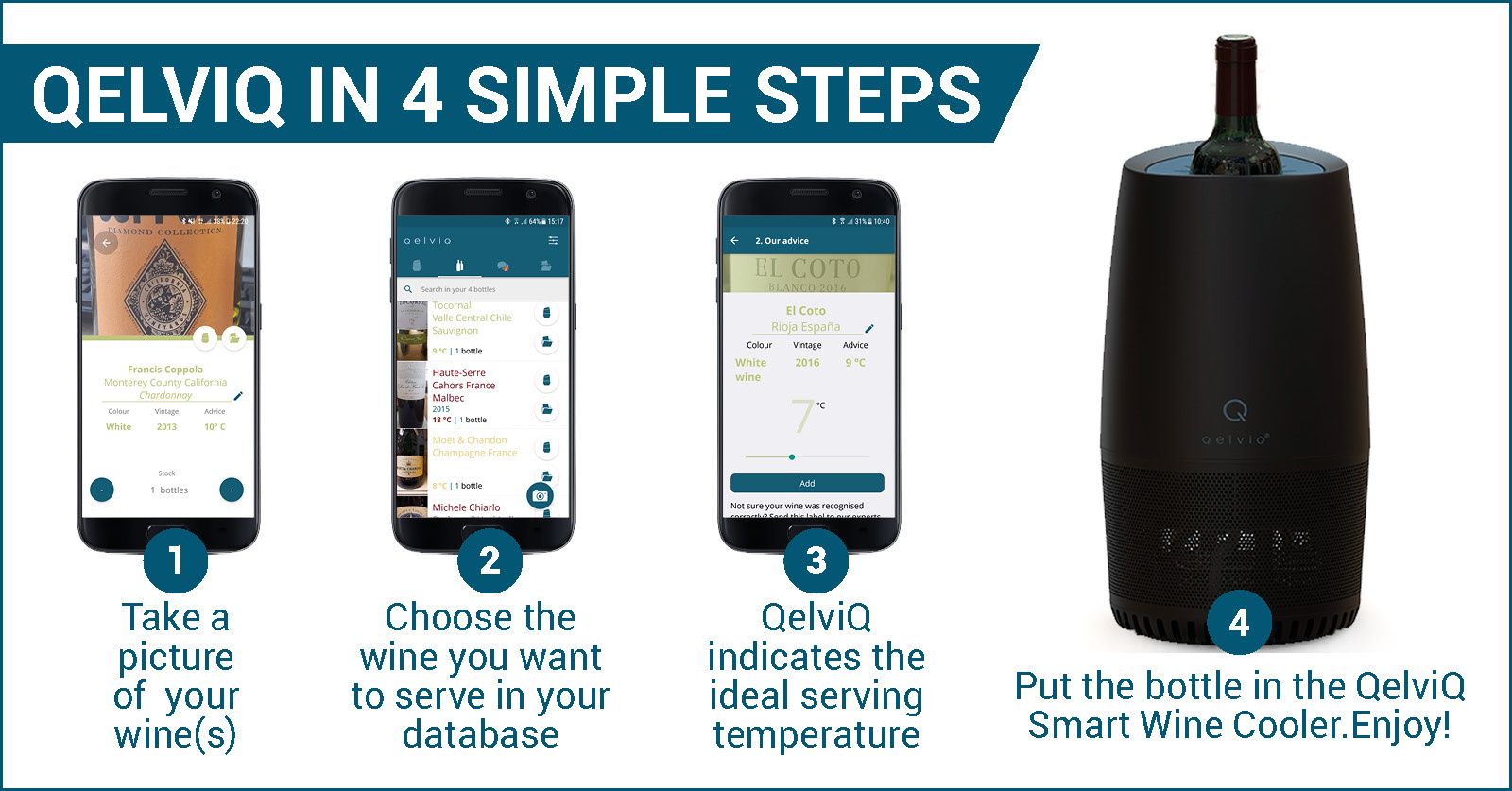 11 reasons why you should buy the QelviQ
#1 ALWAYS THE IDEAL SERVING TEMPERATURE
This is probably the single most important reason to buy your own QelviQ.
Wines are in 99% of the cases served too cold or too hot. Most red wines are best drunk between 13°C and 19°C Due to better isolation and in general warmer temperatures in homes most red wines are drunk at room temperature, which is on average 3°C to 7°C too warm. For rosé, white and sparkling wines the problem is the reverse. Many wine lovers use an ice bucket but ice is 0°C and these wines have to be drunk between 7°C and 13°C QelviQ solves these problems thanks to its accompanying QelviQ App's knowledge of ideal serving temperatures and the performant cooling axnd chilling technology of the QelviQ.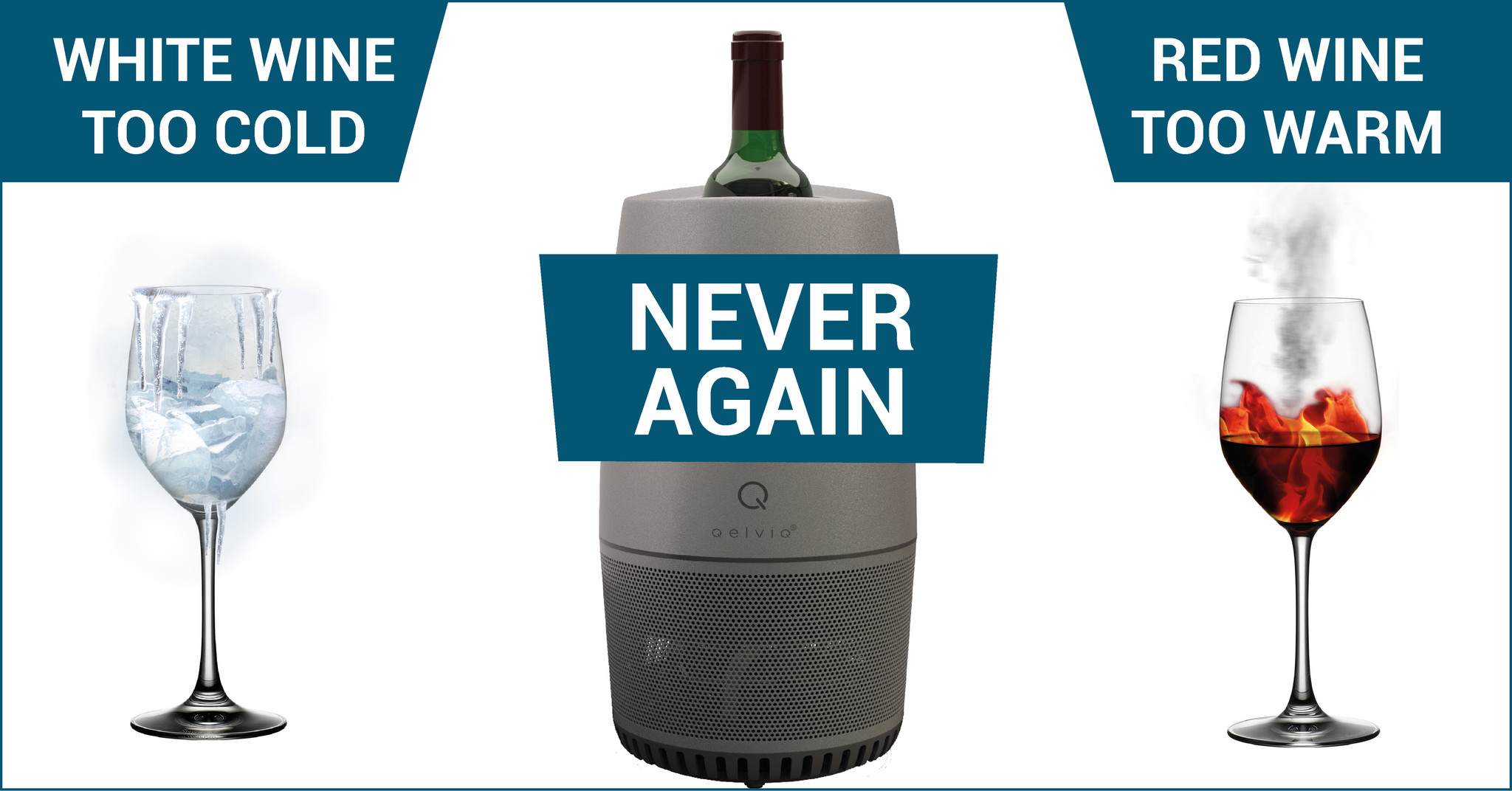 #2 A MUCH BETTER TASTE
Wine served and savoured at the right serving temperature just tastes better. It is that plain and simple. Our tests show this time and again. Wine is a fine and delicate natural product and it needs this extra care more than any other beverage. You would not want to drink your beer too hot or your coffee too cold, would you? So for every beverage, and especially for wine, the right serving temperature is absolutely essential.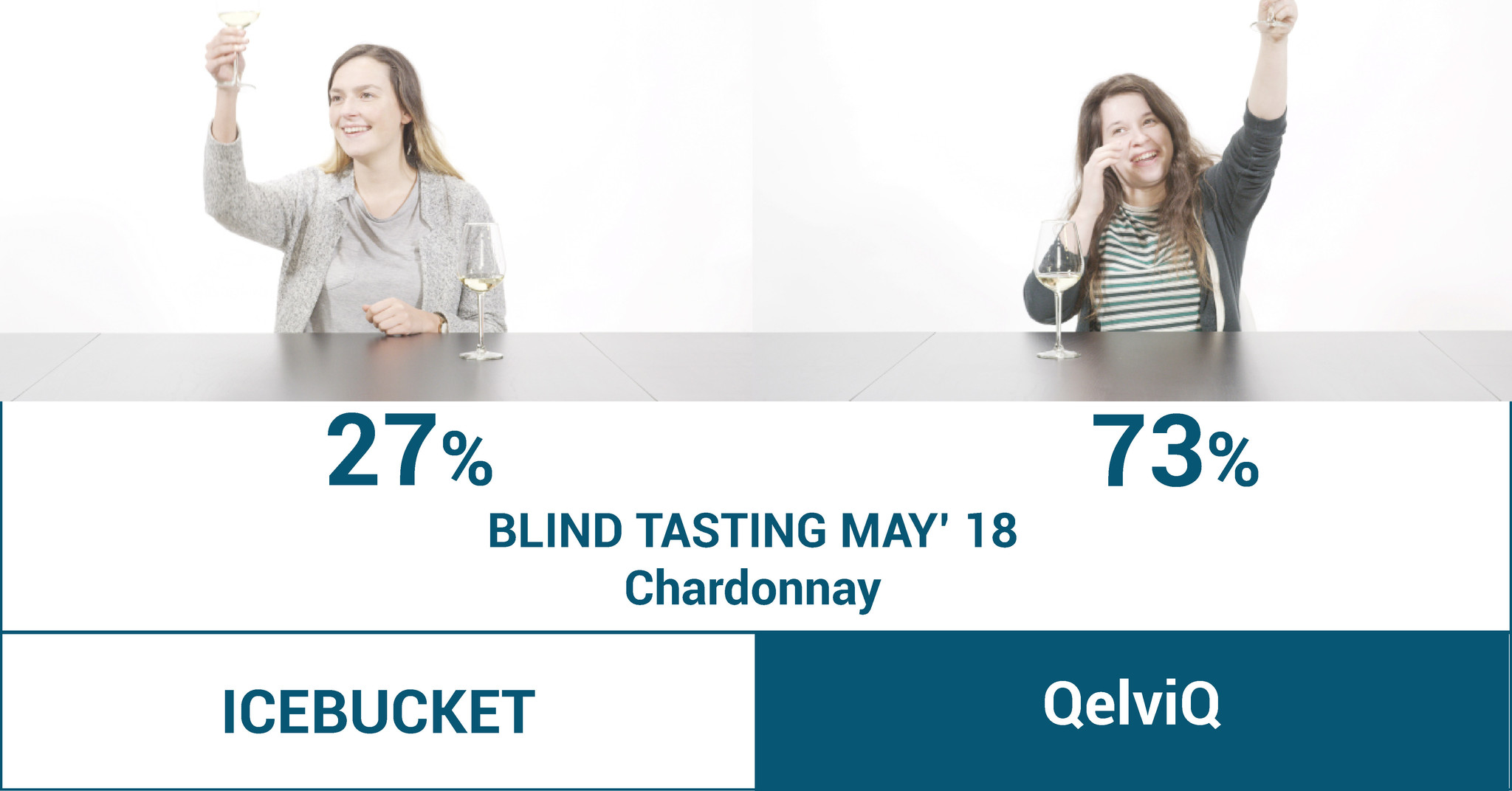 #3 EASY TO USE
QelviQ has been designed with the customer in mind. We have tested the app and the device extensively to make sure we could bring you a product that easy to use and will let you enjoy your wines to its fullest. To register your wines and personal inventory you simply take a photo of each bottle. Once you decide what wine you want to drink it will take you 2 clicks for the device to start its magic. Then just relax and enjoy your glass of wine… at the right serving temperature.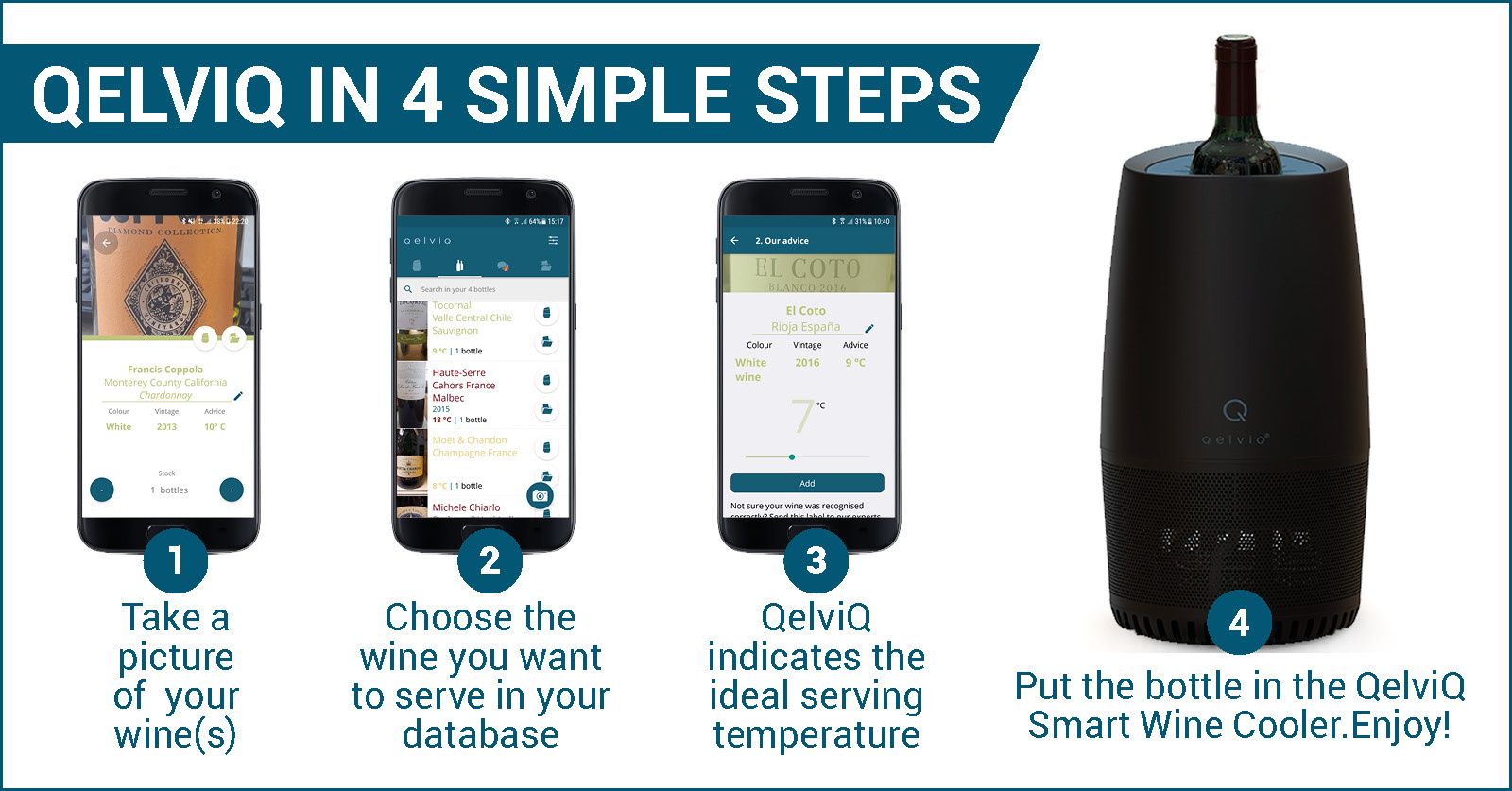 #4 JOIN THE TASTE REVOLUTION
Thanks to this new technology every wine lover gets the chance to upgrade their wine experience. We are entering the most exciting period of technological advances ever and our QelviQ is part of this revolution.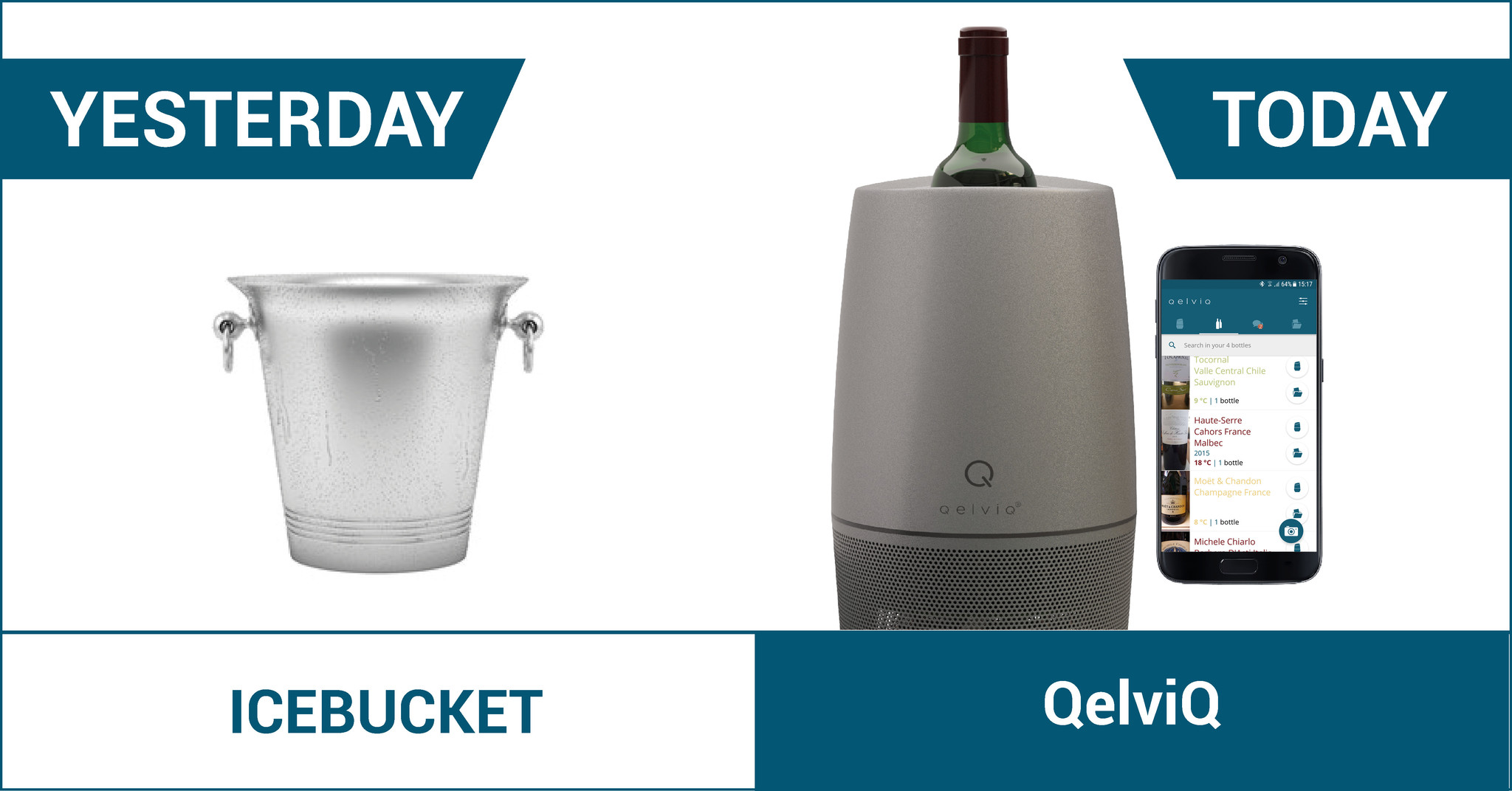 #5 SOMMELIERS AGREE
Experts from top magazines like Wine Spectator and Winefolly as well as winemakers from every corner of the world all agree that the biggest mistake you can make while drinking your favourite wine, is drinking it too cold or too warm. There is one particular group that cares even more about the perfect wine drinking temperature and these are the sommeliers. They know the correct temperature and when they serve wine, their professional honor is at stake. The Sommeliers never had a tool that could ensure the exact serving temperature but thanks to technology and QelviQ their problem has been solved.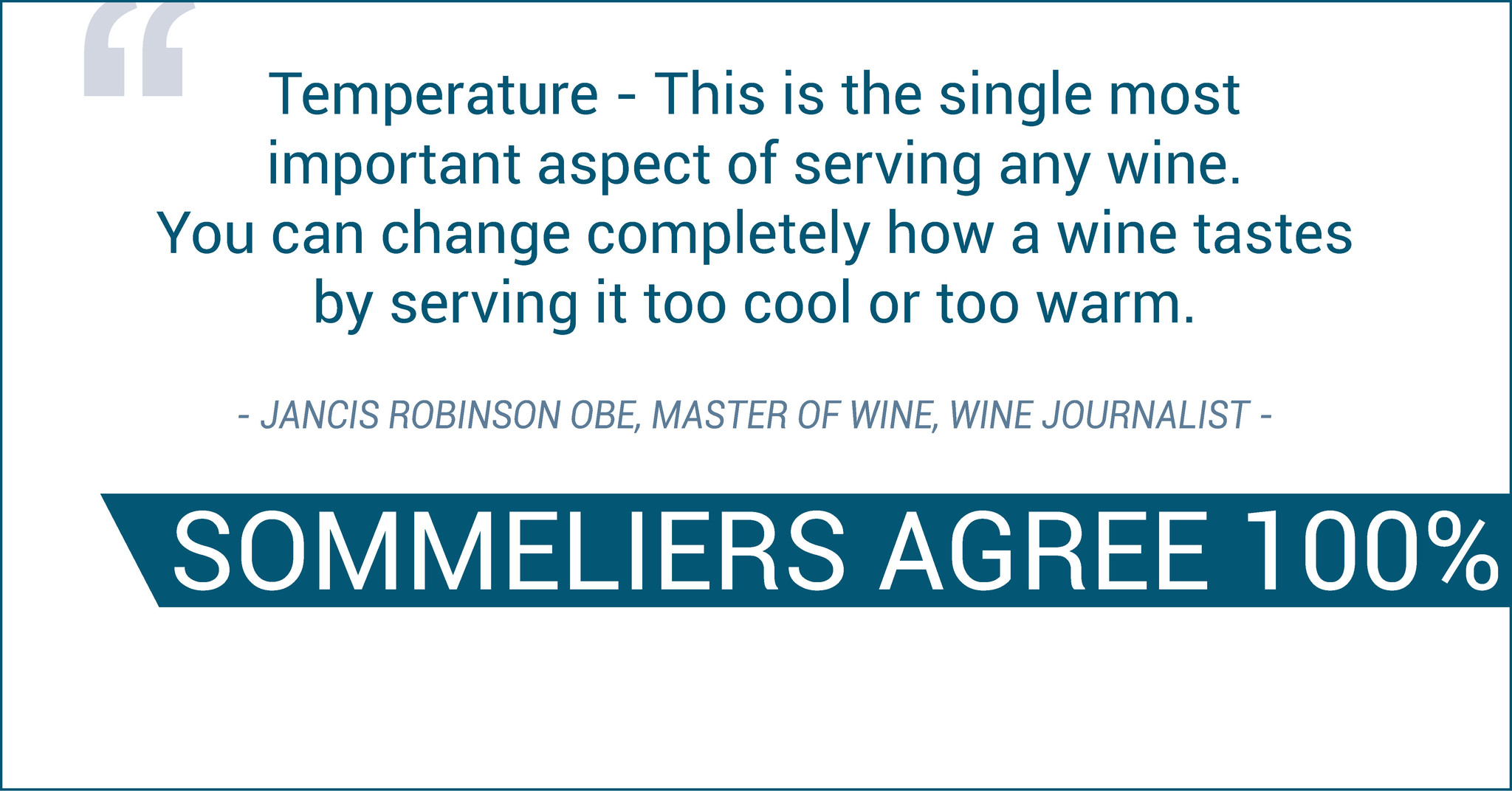 #6 EVERY GLASS = SAME GREAT TASTE
You have certainly experienced the great taste of those first sips of a glass of wine or champagne, perfectly chilled at the right serving temperature. As time goes by the ice bucket cools your bottle too much or your wine gets too warm adapting to the room's temperature so you just lost that magical first taste. Thanks to the controlled environment of the QelviQ, your wine stays at the ideal temperature and you can enjoy every sip as if it was your first.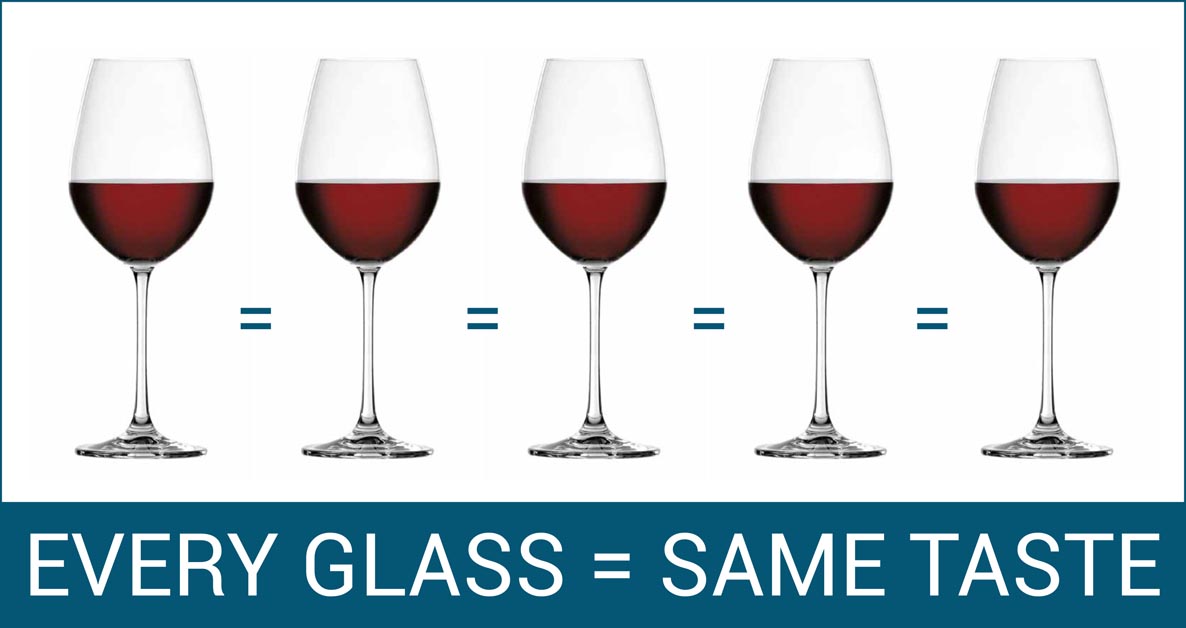 #7 SAME WINE + DIFFERENT TEMPERATURE = DIFFERENT WINE
Blind tasting tests we conducted indicates that people can barely recognize if it is the same wine if the temperature fluctuations get too big (up to 4°C to 6°C). A fluctuation of 5°C in an average room temperature is not uncommon.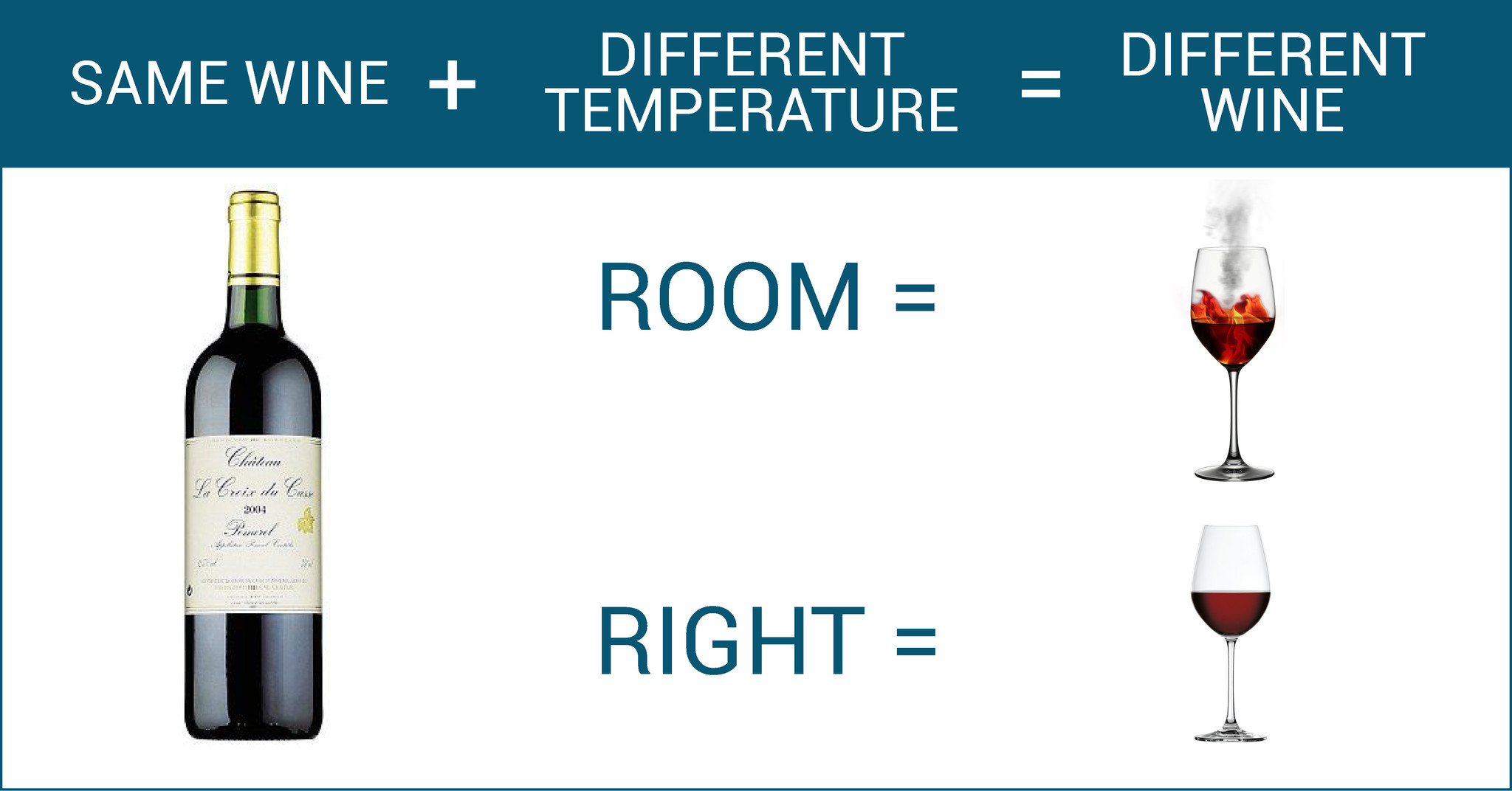 #8 NOT A GADGET
We used the most advanced technology and invested in top materials to make our product so it will last longer. We can guarantee you that the QelviQ will become an essential part of your wine experience for the years to come.
#9 BE A CONNOISSEUR
There is a passion in enjoying wine for many wine lovers. They love the togetherness of enjoying wine with friends and family, the craftsmanship of the winemaker, the story telling around the taste of the wine, the terroirs it originated from and the grapes it was made of. Thanks to the QelviQ Temperature App, we added an extra dimension to this passion. You can become an expert by testing wines at different temperatures, discovering changes in flavor and bouquet.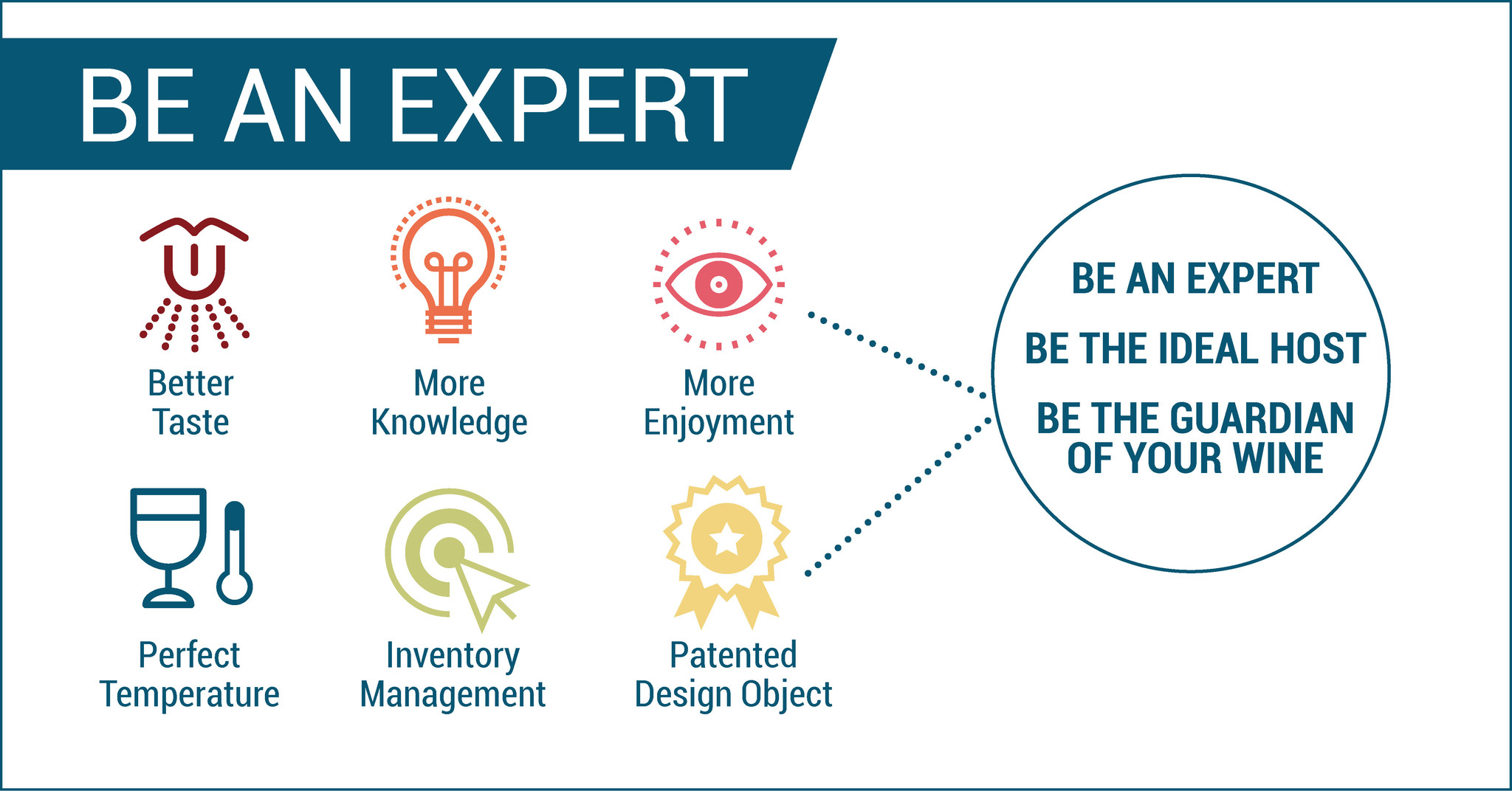 #10 PROTECTION
Many wine lovers ensure they store their wines at the right temperature in wine cellars or special wine refrigerators. The recommended temperature ranges between 12°C and 16°C to keep its freshness and maintain the chemical processes in balance. Every wine is composed of more than 1000 chemical compounds that react differently depending on the temperature. This is crucial information in order to preserve your wine perfectly.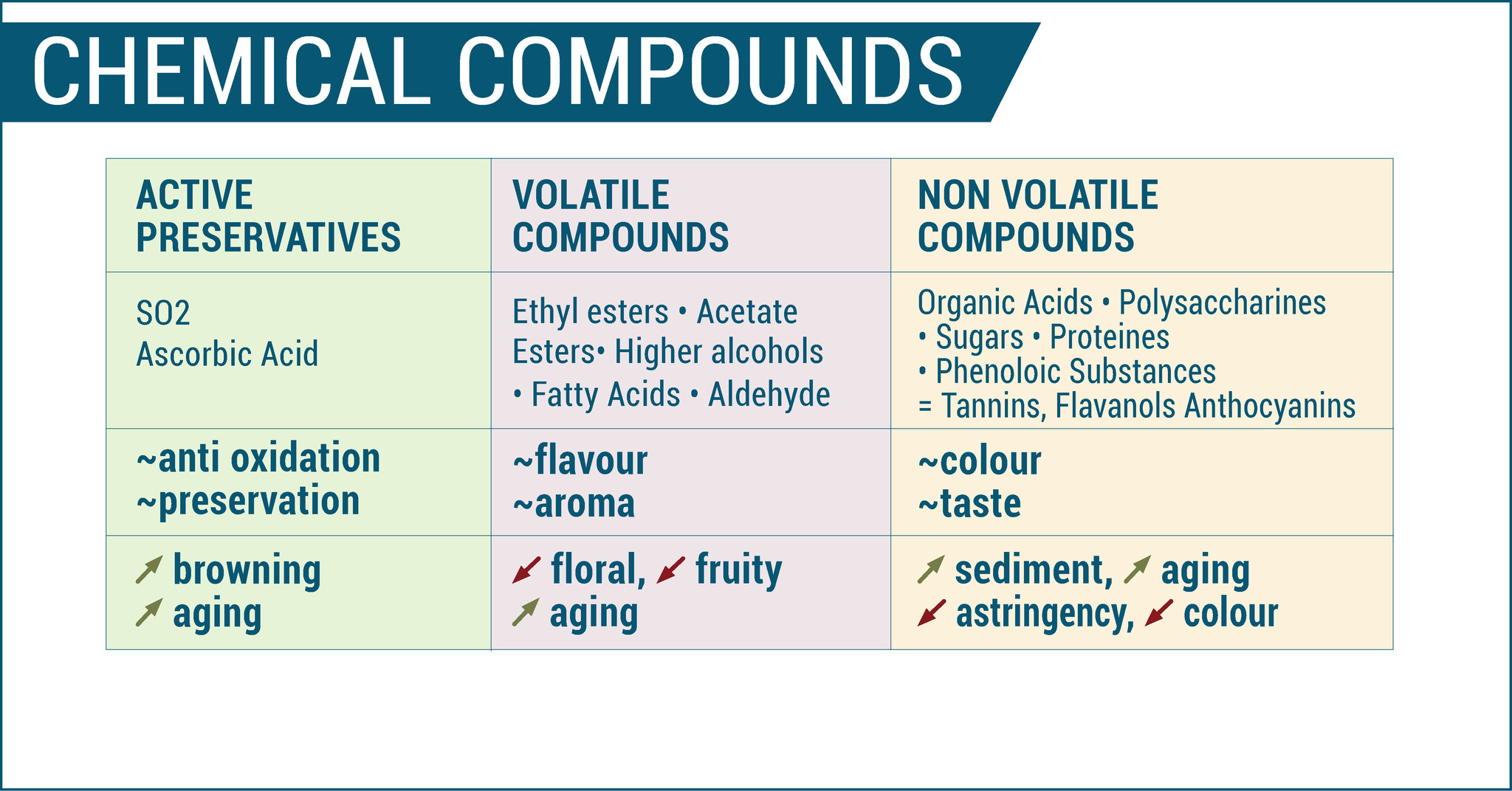 #11 LESS IS MORE
The times have passed where it was more important how much you drank instead of what you drank. Today we appreciate more than ever a dish made with care and the best ingredients and we expect no less from the most important part of a dinner or party, the wine, to follow this trend. More than ever, wine lovers choose quality rather than quantity and the QelviQ ensures that you always serve the wine as it should be.
What is the QelviQ capable of? 6 Product features explained
#1 SUPER FAST COOLING
Our product engineers have come up with 3 solutions to ensure QelviQ works 3,5 times faster than an average refrigerator:
Our special Qool Booster in combination with our rubber holder makes sure there is no wasted energy
We have invested in a high performance heatsink that has been tested and proven over again and that enables us to power the device up to 110 watts, which is more than double the power of that of other coolers meant to cool 6 bottles
We have developed a unique customized cold sink in the top of the device which holds cold longer and saves energy.
When the Qool Booster cap is put on, the QelviQ can cool up to 2°C per 10 minutes whereas a good performing refrigerator at 5°C would only 0.4°C.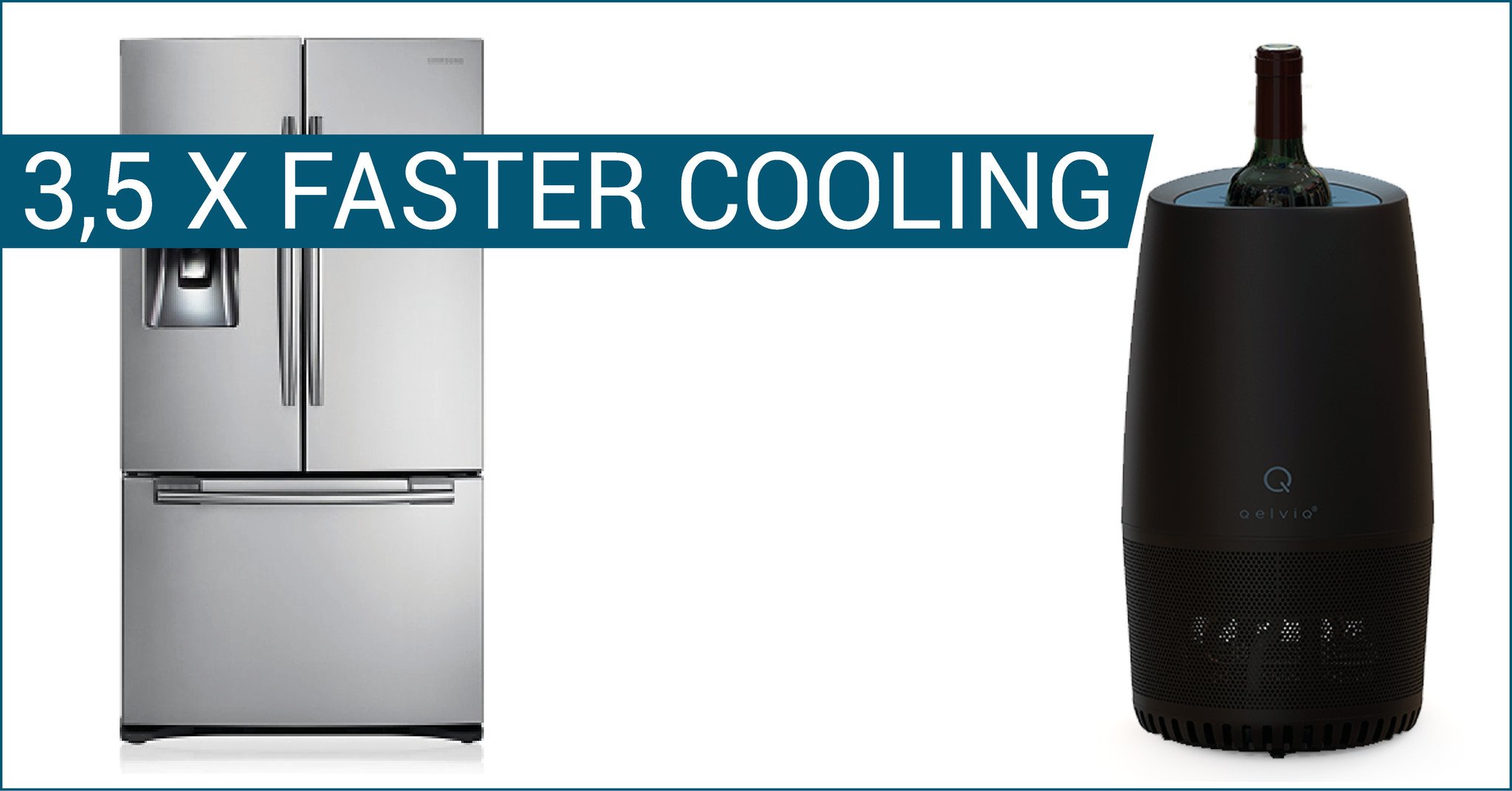 #2 PERFECT CHILLER
Many wine lovers keep their wine already close to the ideal serving temperature thanks to wine cellars or wine refrigerators. For these wine specialists the QelviQ is the ideal add-on to make their wine experience complete. QelviQ solves the "the last mile" of the journey, the last part when the wine is taken out of the fridge or cellar and put on the table. The QelviQ will keep the wine at the exact right serving temperature.
#3 ULTRA LOW NOISE
The QelviQ offers 3 different powerlevels that correspond with different noise levels.
The "fast mode" is the maximum power and it will sound like an average fridge.
The "super silent mode" starts when your wine is at the right temperature. This almost inaudible mode is perfect for when your wine is at the right serving temperature and you want to keep it that way.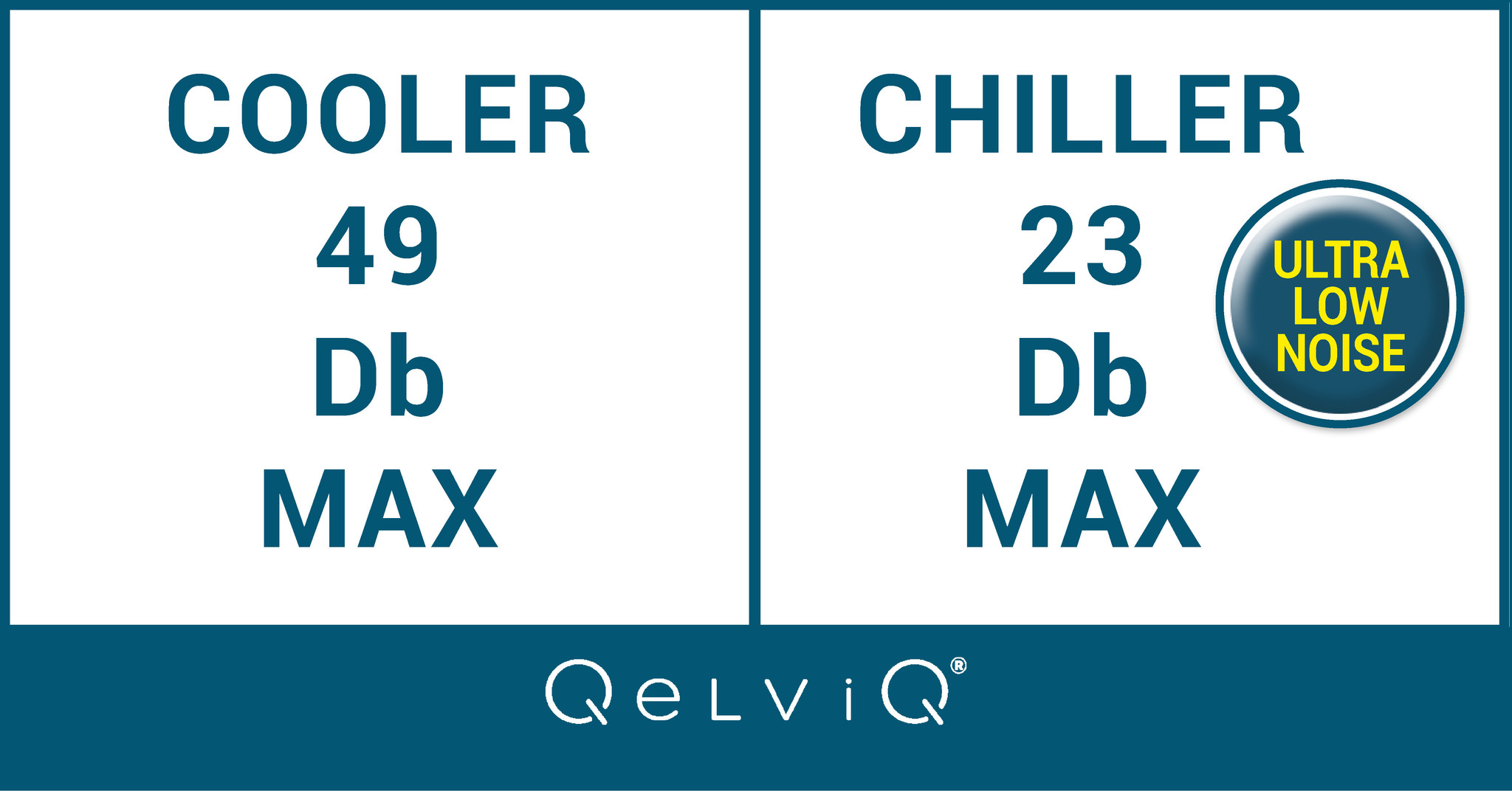 #4 BLUETOOTH
QelviQ uses bluetooth which enables QelviQ to work without the need to attend to it so you can concentrate on enjoying time with friends or family.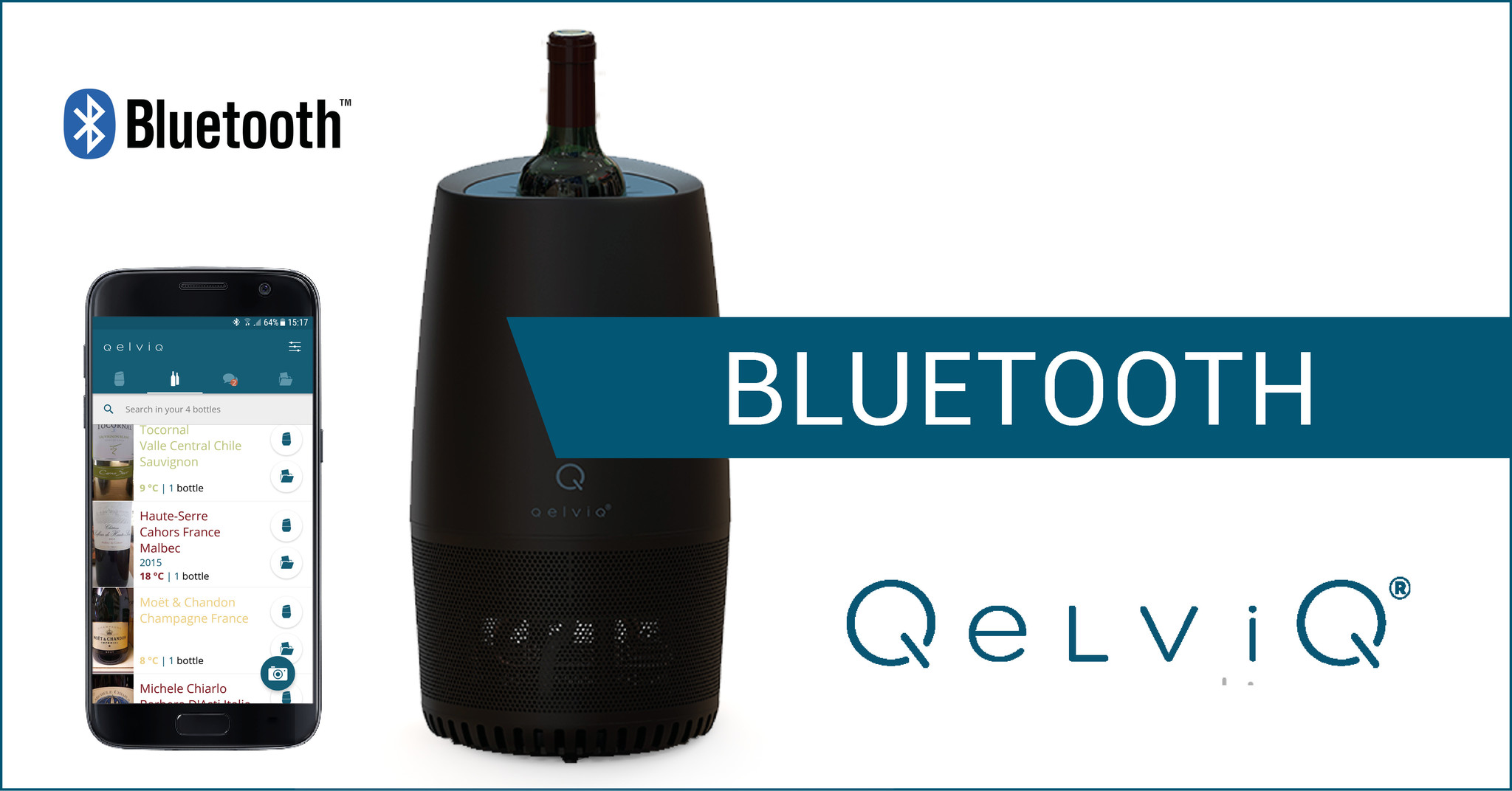 #5 NO LABEL DAMAGE
For many wine lovers maintaining the label in perfect condition is a must as it tells the story of the wine. As the QelviQ uses no ice or water in its cooling process there is no risk of that happening.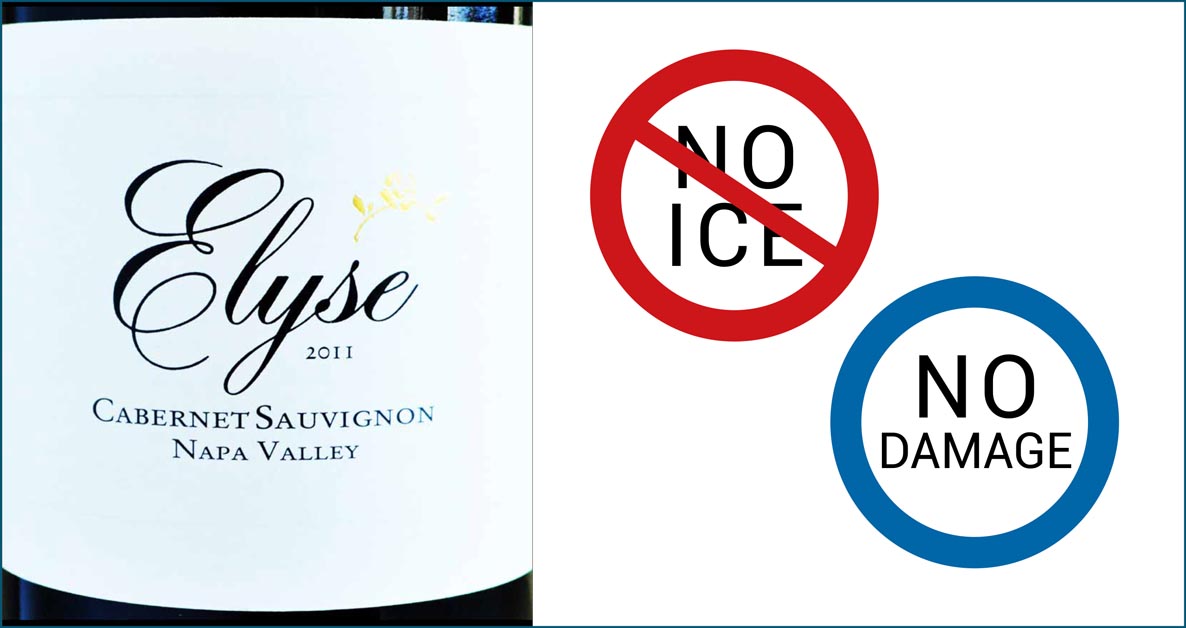 #6 ACCURATE TEMPERATURE MEASUREMENT
The biggest challenge every cooler has is to accurately measure the temperature in a bottle. 95% of the coolers measure the ambient temperature and a couple will measure the temperature of the bottle. Both are inexact ways to measure the real temperature inside.
QelviQ uses an algorithm and formula to get to a very accurate estimate of the temperature inside the bottle. It then calculates and converts that to ensure you get to the ideal serving temperature. There is no other cooler in the world that has ever used this accurate approach to wine cooling.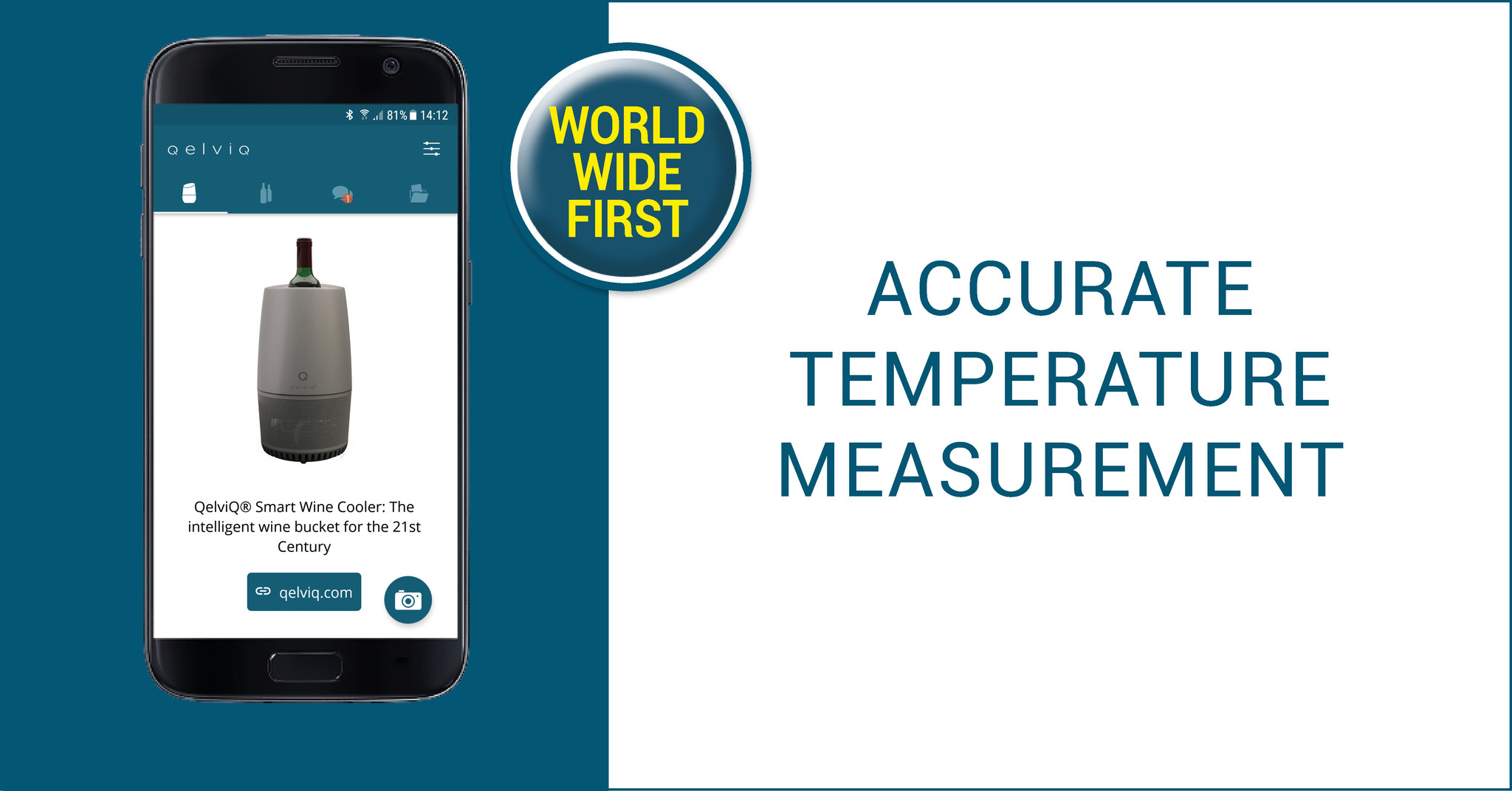 What are the 8 most relevant product features of the QelviQ Temperature App?
#1 THE BEST SERVING TEMPERATURE FOR EVERY WINE
We are working with a group of top sommeliers to get you the best advice possible. They are looking at where the wine was produced, what region it came from, what grapes were used, what the producers notes were and many more factors to make sure you can enjoy your wine in the perfect condition.
It is a ongoing process thanks to the community of wine lovers. Whenever the app does not recognize a wine, you can use our 24/7 sommelier service and send us the label. We will make sure it gets added to our database. Currently we have more than 80.000 winemakers covering 1400 regions or "terroirs" and over 500+ grapes in our database. This covers more than 95% of the global market.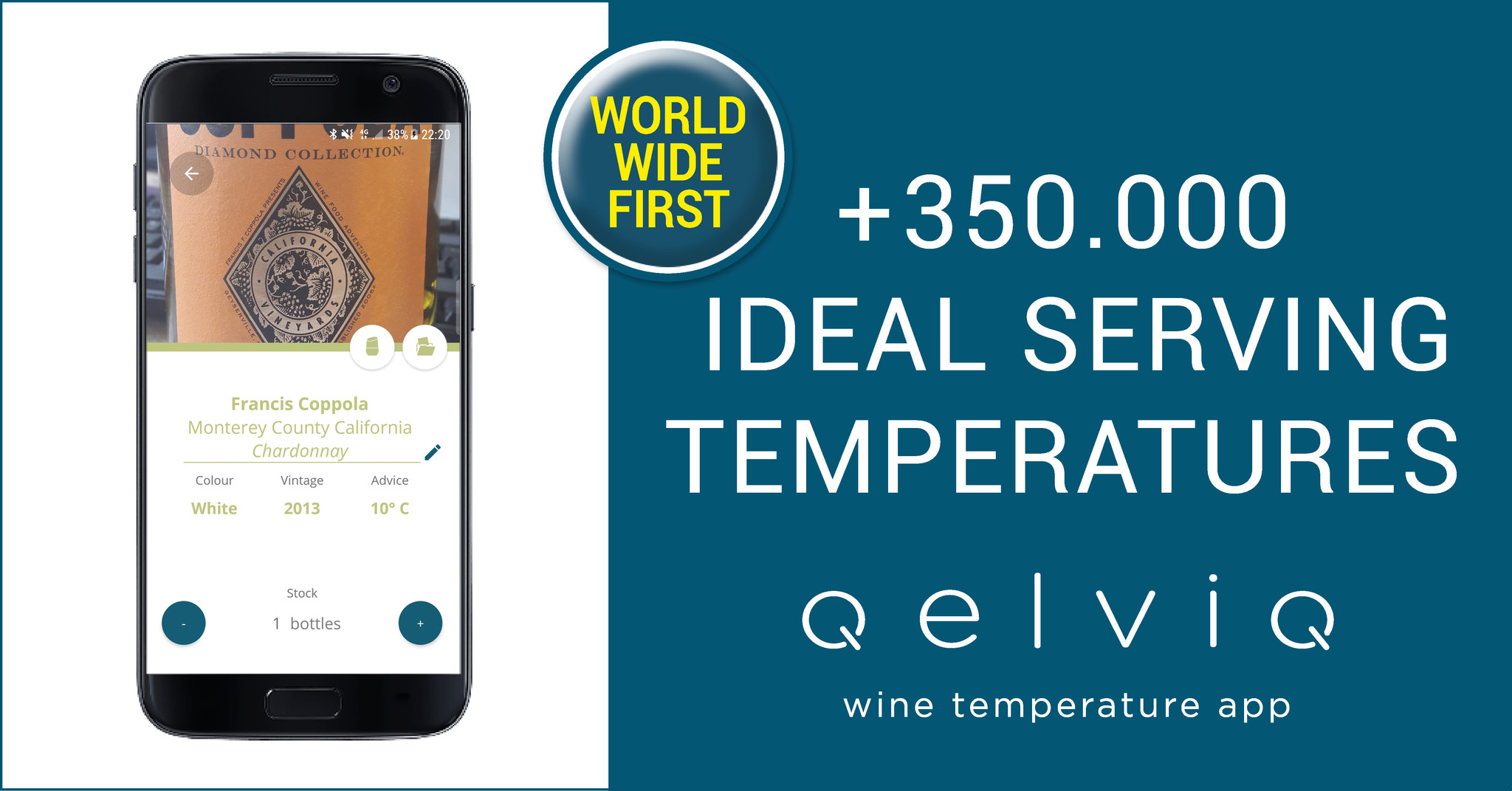 #2 PERSONAL INVENTORY
The QelviQ app has 3 user friendly functions that will help you to store all your wines in a digital format
It has a search function so you find your favorite wine faster
It allows you to easily track the number of bottles you have of each wine.
It allows you to archive wines you might not have in stock but don't want to forget about for future purchases.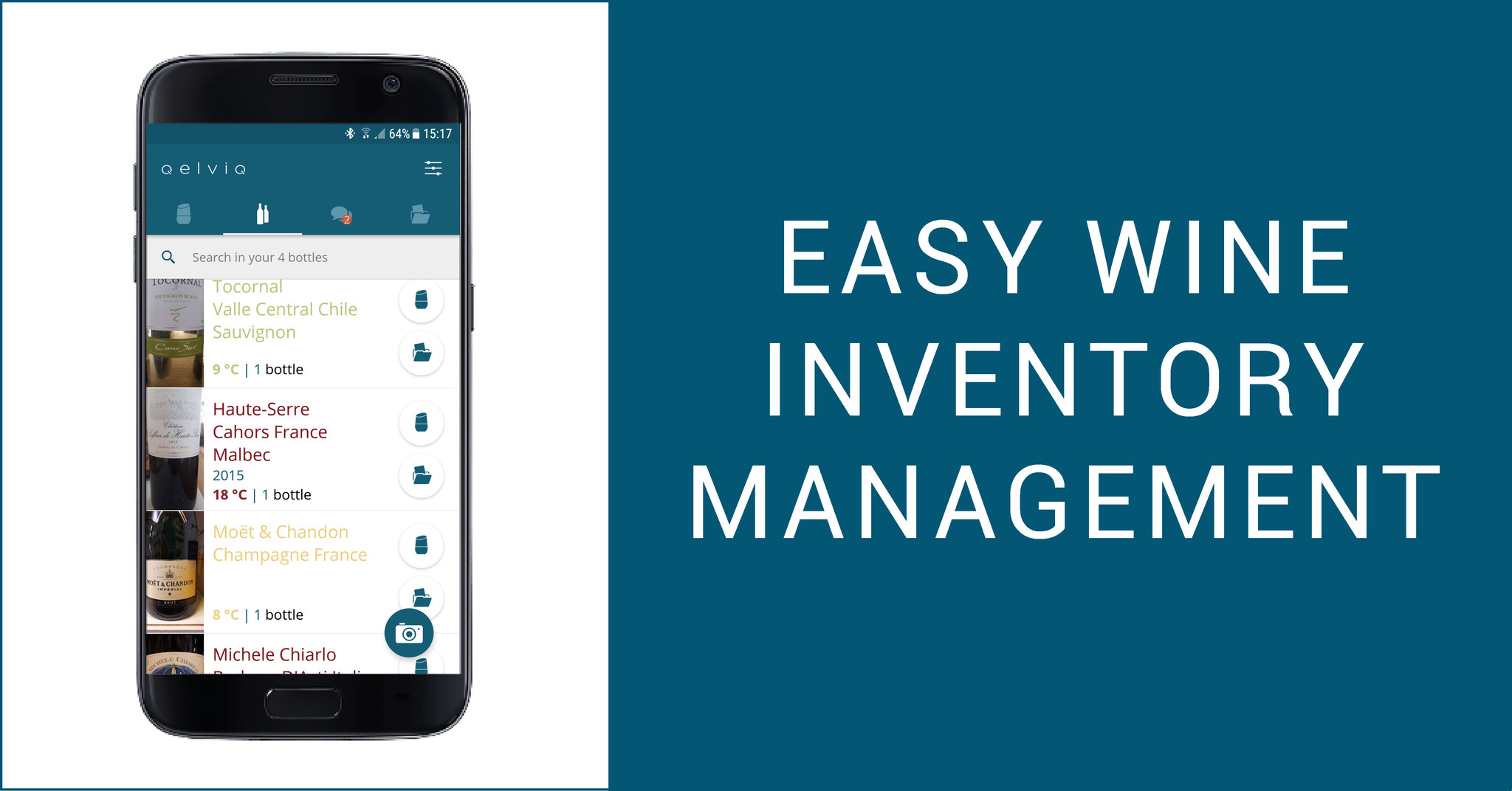 #3 24/7 SOMMELIER SERVICE
In addition we provide a free service that enables you to send us a message asking for the right serving temperature of any particular wine, just in case the app wasn't able to retrieve it.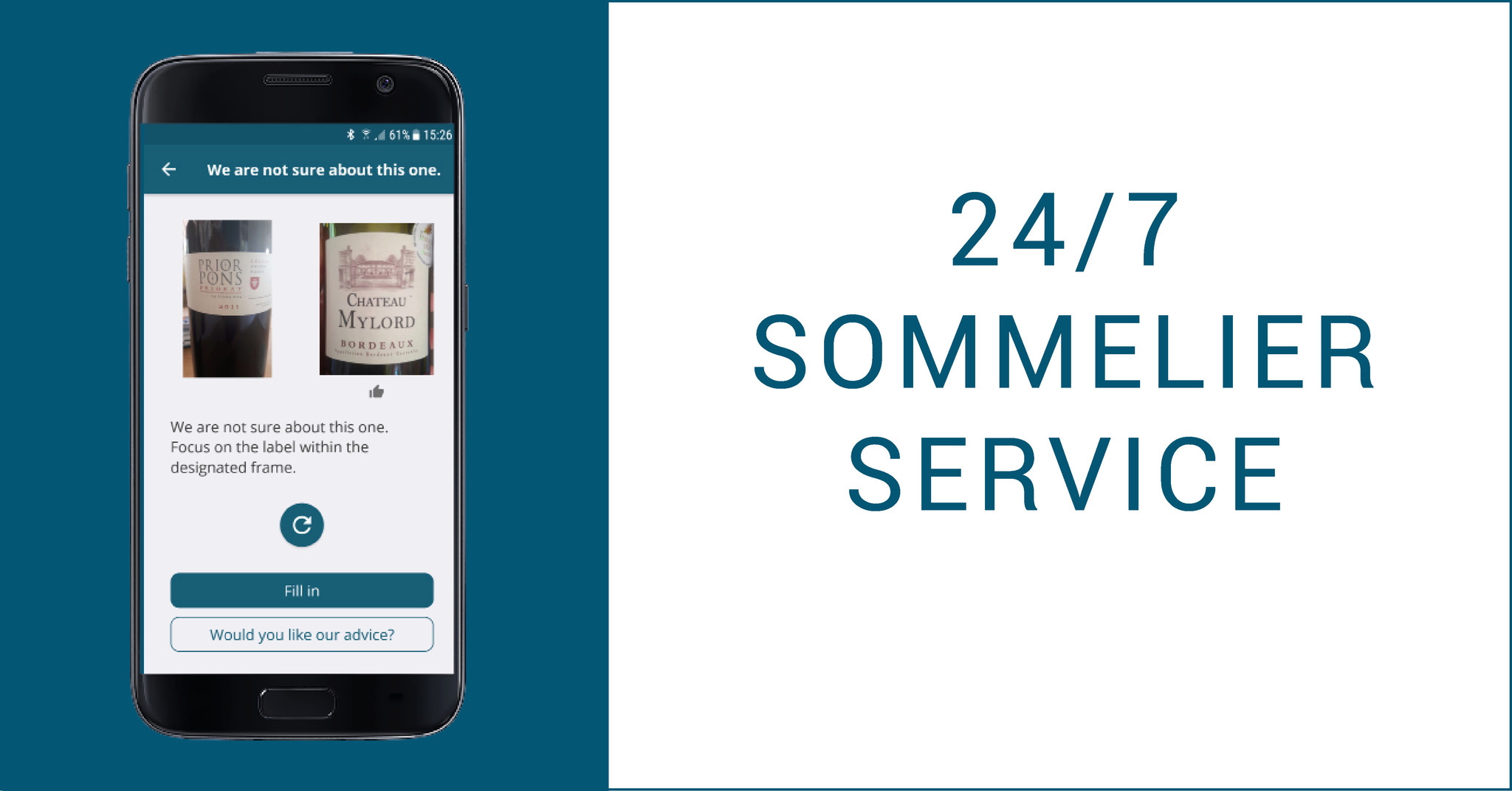 #4 ADAPT TO YOUR TASTE
Change the serving temperature according to your taste and you can do this either through the QelviQ App:
when you scan the wine, QelviQ will advice you of the ideal serving temperature. But you can easily change the temperature if you prefer the wine warmer or colder.
when you serve the wine: even if it is programmed according to the sommelier's advice you can change it to suit your taste.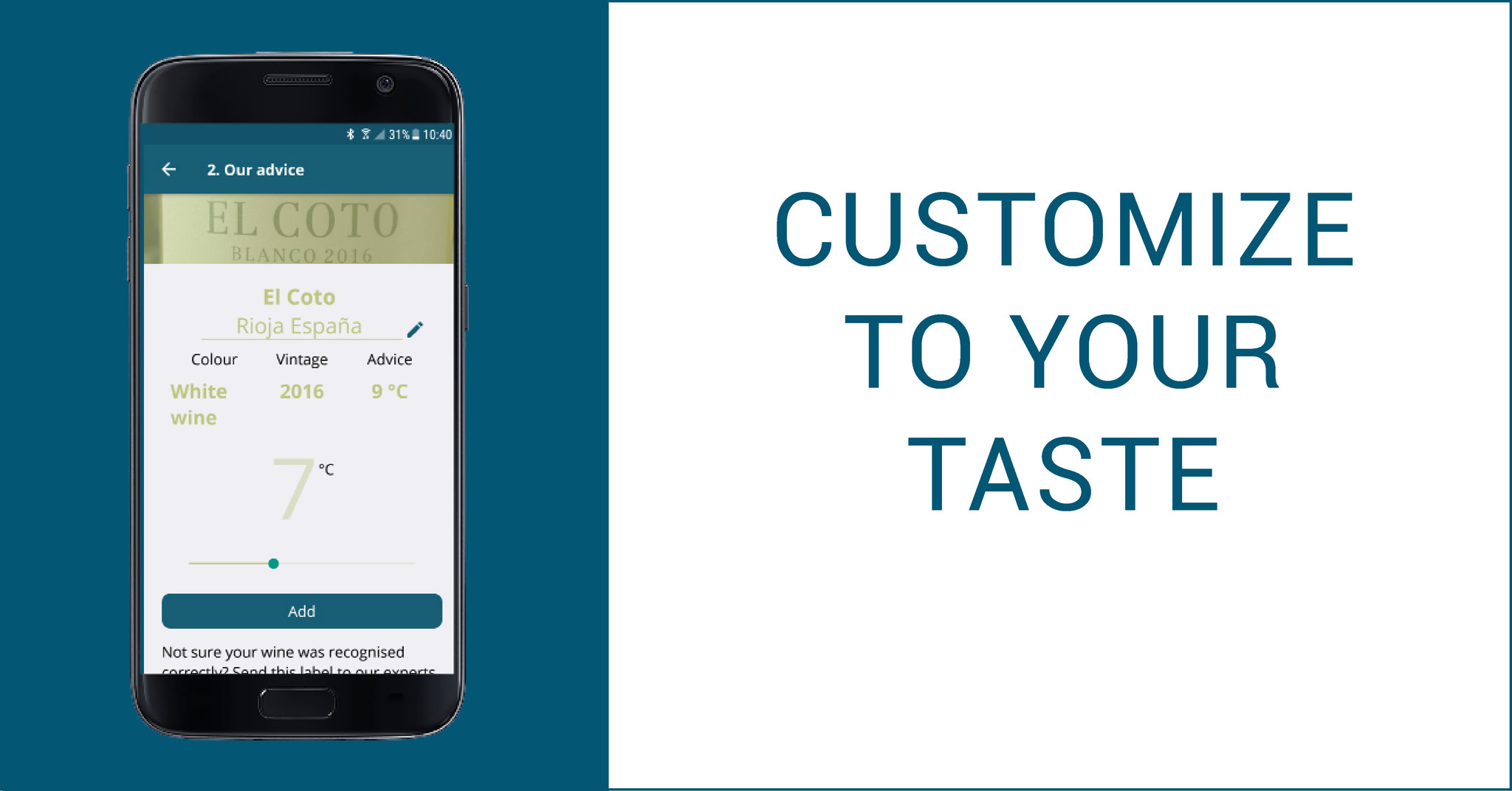 #5 GOOGLE CLOUD TECHNOLOGY
We use different technologies to build our extensive database of wines including Image Recognition Technology, which scans and compares labels, and Optical Character Recognition, which analyzes and detects characters and words. Through the Google Cloud Vision platform we ensure the data stays up to date.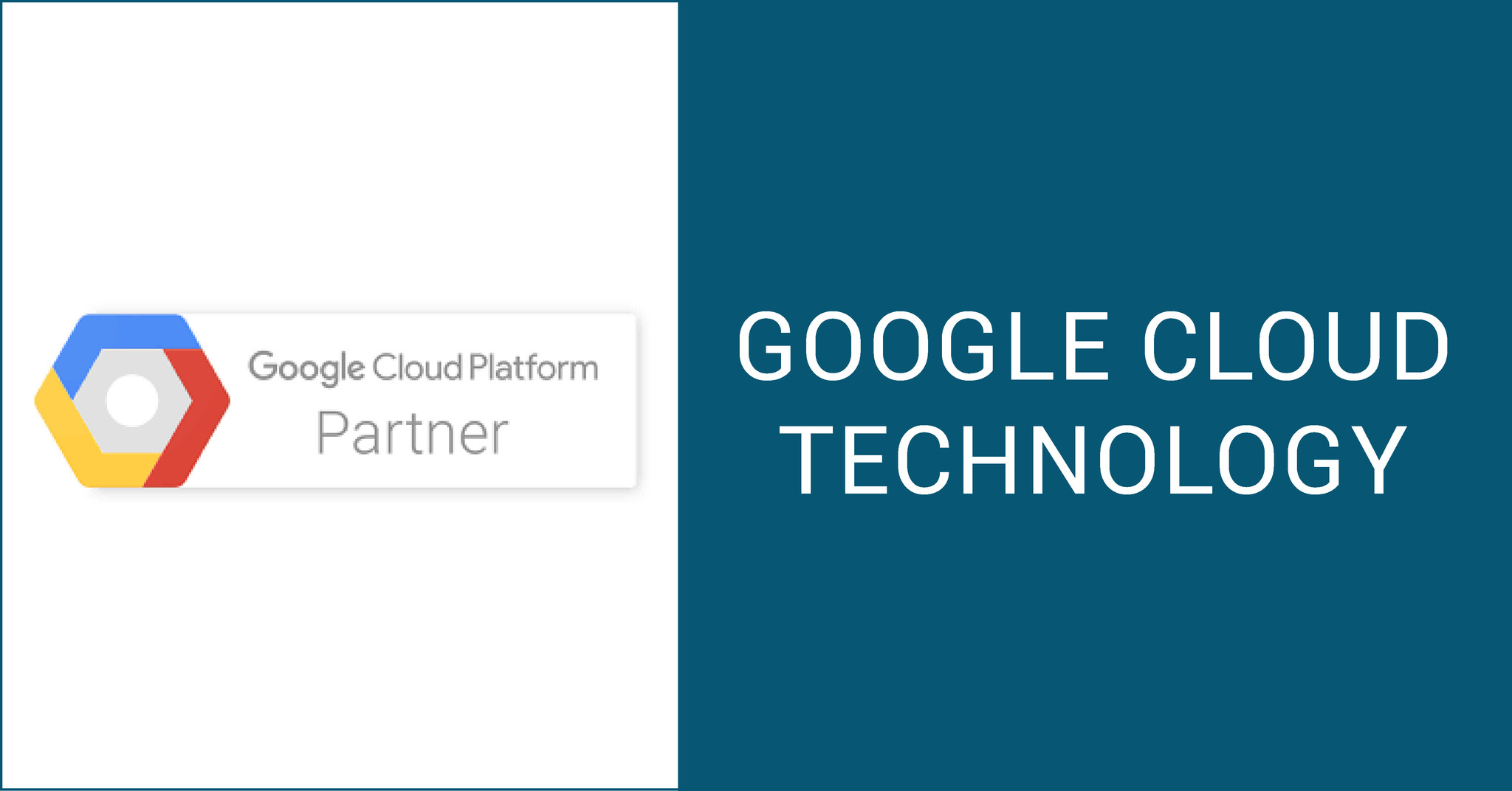 #6 ARCHIVE BACK UP
The archive function will enable you to keep track of wines you no longer have in stock but still want to enjoy on a later occasion.
#7 SEVEN LANGUAGES + °C/°F
The App is available in 7 languages so it makes it extra easy to use the app. The following languages are available: English, French, Spanish, Chinese, German, Italian and Dutch.
Temperatures are either in Celsius or Fahrenheit, according to your preference.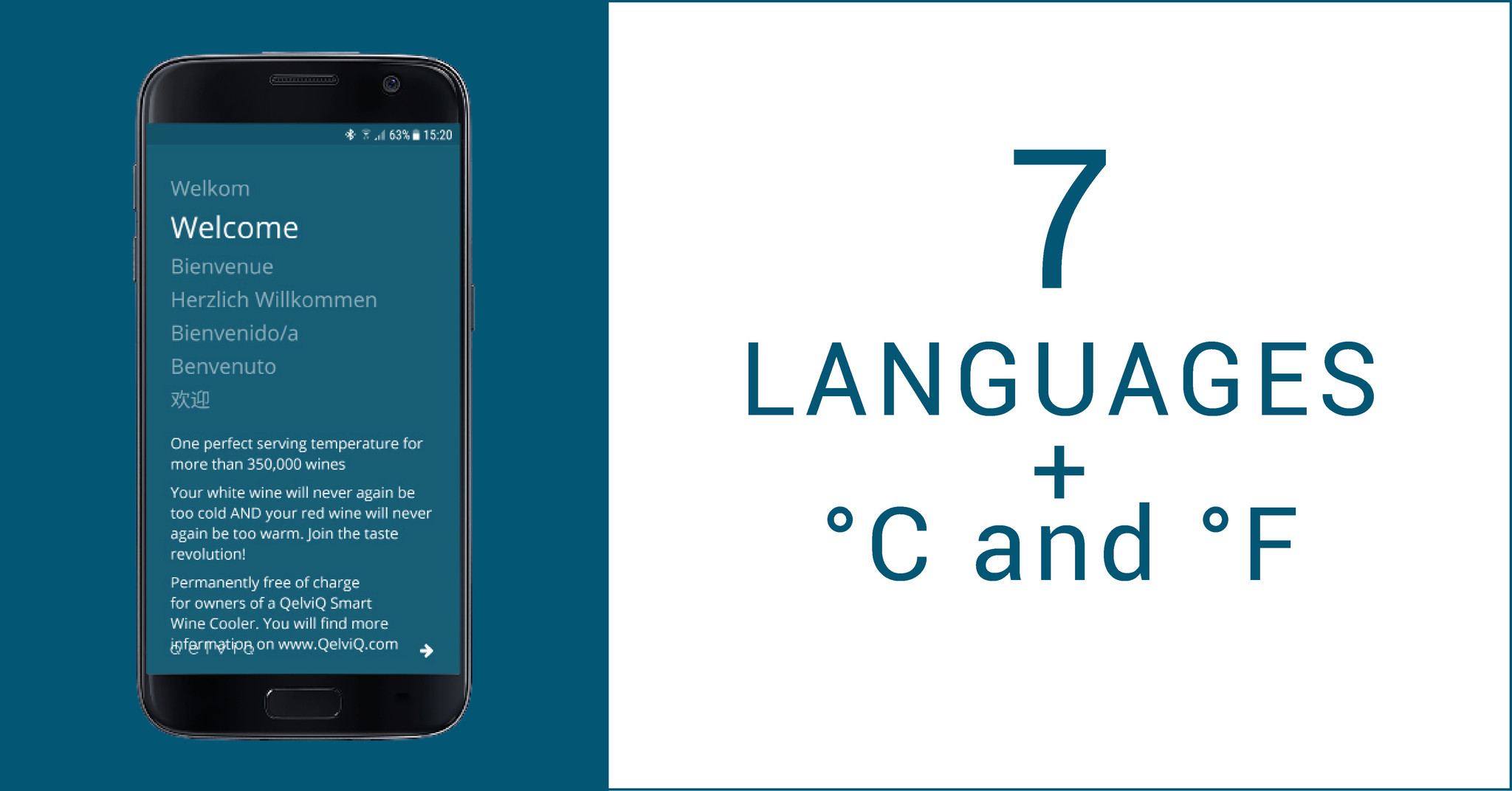 #8 APPLE AND ANDROID STORE
The app is available in the App Store and in the Google Play Store. Simply search for QelviQ and you will be able to download the app.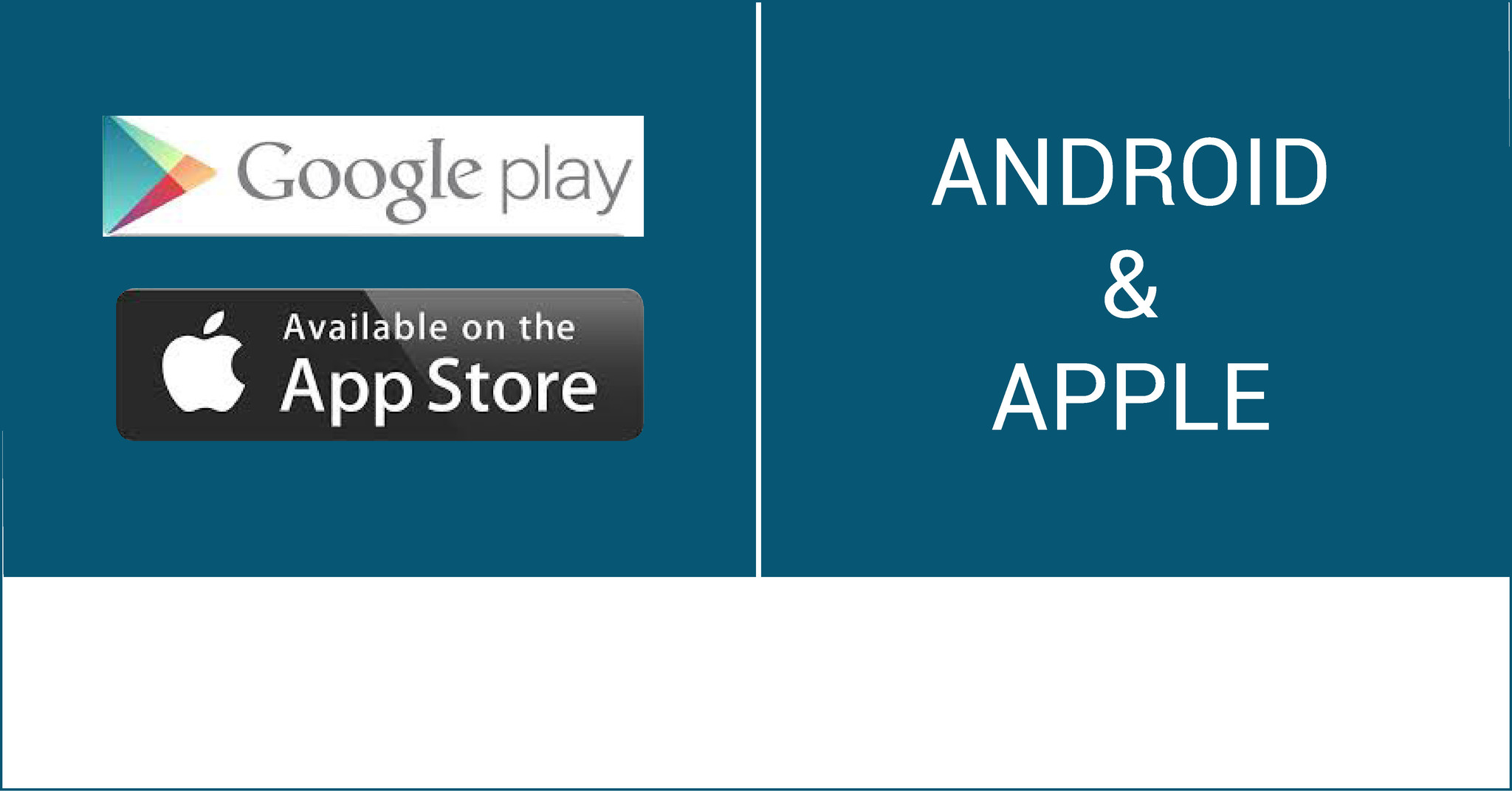 QELVIQ
If I have a wine refrigerator or cellar, is QelviQ useful?
QelviQ is the ideal add-on to your cooler or cellar as it helps you serve the wine in the best condition possible. QelviQ is the perfect solution for the "last mile" of your wine's journey.
If I want to cool a bottle I just bought, would that be possible?
Yes, this is possible, an of 2°C each 10 minutes. We advise you to keep your wine at an ideal storage temperature (between 10°C and 16°C), which is much better for the quality and health of your wine.
If you keep your wine at the correct storage temperature then QelviQ will just bring your wine to its optimal serving temperature.
How fast does it cool?
Our Qool Booster cap in combination with our rubber holder takes care that there is no cold air lost. Our product engineers have come up with 4 solutions to ensure QelviQ cools your wine up to 3.5 times faster than your average wine refrigerator.
We have invested in a high performance heatsink, which enables us to power the device up to 110 watt, which is more than double that of small coolers that have to cool up to 6 bottles with half the power!
We have developed a unique customized cold sink that holds the cold longer than any other cooler and saves energy. In addition there is a special silent fan that takes care of the right airflow.
The QelviQ can cool up to 2°C per 10 minutes compared to 0.4°C of a normal fridge. A good bottle of red takes about 20 to 30 minutes and it will take a little longer for white and rosé.
If your wine is already chilled, you can use the QelviQ immediately with no waiting time!
Can I adapt the temperature to my own taste?
Yes absolutely
. You can do this
through the App:
• when you scan the wine, QelviQ will advise you of the ideal serving temperature. But you can easily change the temperature if you prefer the wine warmer or colder.
• when you serve the wine: even if it is programmed according to the sommelier's advice you can change it to suit your taste.
Does it make noise?
You have the option to choose the power level of QelviQ which both determines the speed of cooling as well as control the produced decibels.
The "fast mode" is the maximum power and it will sound like an average fridge does. In this mode the Qool Booster will help to speed up the process. The device will itself go to "super silent mode" when the wine is ready!
The "super silent mode" is used if you want to keep the wine at the right temperature. Ideal to put on the table or nearby.
THE IMPORTANCE OF WINE TEMPERATURE
Why is the ideal serving temperature of wine so important?
Today most wine producers know how to work with mother nature to produce a fine wine. They have become masters at adjusting and finetuning the 4 determinants of a wine: the level of sweetness (in g/l residual sugar), the level of acidity (Ph), the tannins and the alcohol percentage (in %) to create a range of light- to full-bodied wines. But these 4 parameters are extremely sensitive to temperature changes, the most common problem for red wines is that the aromas and flavors vanish in thin air when your wine is too warm. The standard problem for rosé, white and sparkling wines is that the aromas and flavors stay locked in. If you drink your wine too cold...
Almost every single organization of sommeliers, wine club or major restaurant uses guidelines for the ideal serving temperature. This table illustrates the broad guidelines.
What is the effect of temperature on the taste of wine?
What do the experts say?
Here are some quotes of leading sommeliers and wine experts.
"Temperature - This is the single most important aspect of serving any wine. You can change completely how a wine tastes by serving it too cool or too warm." Janice Robinson Obe, master of wine & wine journalist
"The temperature of the wine in your glass can have a marked impact on the way it smells and tastes. If you don't believe me, try the same wine first at 15°C and then at 22°C. The fruit and the perfume will be more pronounced in the former, while in the latter, the alcohol will leap out of the glass and the flavours will seem jammy and indistinct." Tim Atkin
"If you order by the glass you'reout of luck as you'll get a pour from a bottle sitting on the bar whose temperature is 70 degrees or higher. You will pay the same price as the restaurants listed above. As Ryan Sutton would say, that's a bad deal." NY eater review
"To enjoy wine at the proper temperature, you need to act in a counterintuitive manner: Chill your reds and warm your whites" New York Magazine, Joseph Nase
GENERAL INFO
How does new technology help QelviQ?
There are many different technologies and applications we used to develop and build the software and hardware: temperature sensors technology, Wifi-communication, Ultra Low noise Fans, CPU cooler technology, Internet of Things software, Telematics and M2M, Optical Character Recognition and Image Recognition software, Peltier electric cooling, PCB electronics, customized Coldsinks and a third party patented Heatsink. The magic of the product is found in combining all these existing technologies and adding a few customized solutions for QelviQ and the QelviQ App.


Where can I buy QelviQ?
QelviQ will be available from October 2019. You can pre-order in our shop.
How do you use my customer data?
We will only ask the minimum required data to help us run the integrated system of the QelviQ App and QelviQ and are following the strictest data protection laws which are the GDPR rules used by the European Union. We apply these to all of the markets even those that have less stringent privacy policies. We are committed and will never transfer your data to a third party for commercial use.
At any time will you be able to unsubscribe from our e-mail list.
We do ask an opt-in when downloading the Free QelviQ Temperature App to offer you all the services associated with the QelviQ such as the 24/7 personal sommelier service.
What is your privacy policy?