Frequently Asked Questions
CAUTION: Do not use or store this product in environments where the ambient temperature is 113°F or higher. Exposure to such high temperatures can result in damage to the product. Always ensure that the product is used and stored in a cool and well-ventilated area to maintain its longevity and functionality.
The QelviQ Personal Sommelier is a beautifully designed portable temperature control device that brings every type of wine to its ideal serving temperature. When paired with the accompanying QelviQ App, it really does become Your Personal Sommelier in delivering what is truly the ultimate wine experience.
When the highly advanced QelviQ hardware and software are connected, a system using state-of-the-art, internet-of-things technology is set in place for solving that last mile of your wine's journey.
Function 1 : Your Wine always at the optimal temperature.
Wines are in 99% of the cases served too cold or too hot. QelviQ solves these problems thanks to its accompanying QelviQ App's knowledge of ideal serving temperatures and the performant cooling and chilling technology of the QelviQ.
Significantly QelviQ measures the temperature of the wine in the bottle and automatically ensures that it reaches the correct temperature-and stays there!
The connected QelviQ App, with its database of over 350,000 wines with their ideal serving temperature (based on grape and terroir - and available in seven languages), sends the ideal temperature of your specific wine to your QelviQ with one touch of a screen.

Function 2 : Advises on Wine2Food Pairing and General Advice.
How does the Wine2Food Pairing advice work? 
When you decide on a wine to drink, we look at the terroir or main grape. Then we translate that to a wine style (from bold, to light, 9 styles in total). You can choose what kind of 1. 11 kitchen styles (American, French etc.), 2. The type of meal you are serving (dinner, desert etc), and 3. The type of food (veggie, fish or meat). And voila we give you a recommendation. We currently have 220 dishes in our database and it is ever growing.
Can I also get Food2Wine Pairing advice? 
Yes you can. Just pick a dish from our database and we will recommend the perfect wine to go with it.
What makes the advice so unique?
We start from your inventory, your choice of wine so you know you have the perfect accompaniment to your meal already in your inventory. A worldwide first!
What kind of general advice do you give?
We have a group of sommeliers from around the world that help us answer your questions. From general questions on what years are best for that wine, should you decant the wine, etc.
Function 3 : Manages your wine inventory
How does it work?
Once you take a photo of your wine, it will ask you to save it and it will be immediately added to your wine inventory. You can add comments, star a wine, add how many bottles of the wine you have in stock, get information on grape, terroir, country etc.
How many wines can the inventory hold? 
It is unlimited.
Function 4 : Buying your favorite wine
How does it work? 
You send us a query about the wine you are interested in buying, we source it, find a partner wine shop which will in turn send you an offer.
Is this available everywhere? 
Currently it is restricted to certain countries and states.
CAUTION: Do not use or store this product in environments where the ambient temperature is 113°F or higher. Exposure to such high temperatures can result in damage to the product. Always ensure that the product is used and stored in a cool and well-ventilated area to maintain its longevity and functionality.
White LIght
White light can mean 2 things; When flashing continuously it means QelviQ is cooling. In this mode there is a bottle in QelviQ. Flashing every 12 seconds means QelviQ is in 'standby mode'. This mode ensures that QelviQ is pre-cooled with low consumption. In this mode there is no bottle in the QelviQ.
Green Light
This means that your chosen wine has reached the ideal temperature. It will remain green until you remove the bottle permanently.
Red and Blue Lights
That combination of lights implies that a bug has occurred in the firmware of the device. Please send an email to customercare@qelviq.com with a photo or video of the device so that we can provide the best solution.
Dark Mode
We are working on a firmware update that will give you the option to turn the light signals off. We will keep you updated on when that rolls out.
What is the button on the back of the device for?
This button has 2 functions
*the main function is the activation of Bluetooth. When you briefly press the button, a blue light will start flashing letting QelviQ know it can connect to the Ask QelviQ app.
*The other function is for a full
restart if you press the button for more than 10 seconds. You should only do this if you have received the advice from QelviQ. 
Can I switch off the device with the button at the back?
No, this button only serves to activate Bluetooth and for 'reboots'.
You can only switch off the appliance completely if you pull the plug out.
What do the beeps mean?
1 beep means that QelviQ can detect the bottle of wine you have placed in it to measure its temperature. You will hear the beep when you insert the
bottle and when you take it out.
3 beeps means that QelviQ is starting to cool or has reached the ideal temperature. On those last 3 beeps you will also see the green light flash so you can be sure that the wine is served at the ideal temperature.
What is the Q-cap for?
The Q-cap has 2 functions:
*mute the sound when QelviQ is working at 100%
*keeping the cooling air inside for optimal cooling and 'chilling'
Do I need the Q cap?
We recommend using it during the cooling process. When the wine is up to temperature, the top fan will stop after 9 minutes after the message that the wine is perfect. Then you can definitely take off the Q-cap.
How fast does QelviQ cool down?
QelviQ cools a full bottle on average at full power up to 4 degrees Fahrenheit per 15 minutes. This is also the maximum speed that experts find acceptable to bring a wine up to temperature. This is about 3 times faster than a refrigerator. The speed can still increase for half-filled bottles.
Can QelviQ also heat up?
The current version does not provide that feature. We hope to add that feature in the future. You will not have to buy a new QelviQ for this. This will run via a 'firmware update'
Can I cool and keep it at the right temperature?
That is the essence of QelviQ. QelviQ brings the wine up to temperature and will, as long as you wish, keep the wine at the ideal temperature.
Does QelviQ keep the wine at the right temperature unplugged?
Because of its great insulation, QelviQ will keep your wine at the optimal temperature for up to 2 hours after it has been brought to the correct temperature so you can keep your QelviQ unplugged on your table during dinner if you choose so.
What should I absolutely avoid with QelviQ?
We absolutely advise against putting QelviQ in the sun. You can certainly put it in the shade, but it is best to avoid outside temperatures above 35 °C or 97 °F. QelviQ can still cool but a maximum of 20 °C or 36°F below the outside temperature.
No water should ever get into QelviQ and no ice blocks should be used.
Water should never get into QelviQ. Furthermore, no bottles may be inserted upside down.
We also strongly advise against placing the appliance on a carpet as this can disrupt the air circulation at the bottom.
For other cases of improper use, please refer to the warranty policy on www.qelviq.com.
Are there any bottles that do not fit in QelviQ?
About 95% of the bottles fit in Qelviq. Bottles with a diameter of more than 8.5 centimeters cannot be placed in QelviQ. This concerns a limited number
of bottles of champagne with a very wide bottom.
Can I put in bottles other than 75 cl bottles?
Yes, you can put smaller bottles in it, but then we cannot guarantee the optimal temperature.
Magnum bottles and larger sizes do not fit in QelviQ and therefore
cannot be cooled or kept at temperature by QelviQ. You can keep them in the 'Ask QelviQ' database.
Can I keep my bottle of wine until the next day?
You can. If you have not finished your bottle, you can leave it in
QelviQ and it will keep it at the correct temperature until the next day
How much energy does the device consume?
In 'standby mode' the device consumes a maximum of 20 watts, which is as much as a light bulb. During the cooling process, QelviQ consumes a maximum of
105 watts.
How many QelviQs can I link?
Today we have provided that you can connect up to 8 QelviQs at the same time.
What does the bottle detector do?
The bottle detector warns QelviQ that a bottle has been inserted and will initiate the measurement. When a bottle is detected, you will hear a beep and see a white flash.
If you remove the bottle during the measuring process, the measurement will stop. You must enter a new command.
If you remove the bottle during the cooling process or after the cooling process, QelviQ will keep the existing command for another 5 minutes. After that, the device returns to 'standby mode' and you have to enter a new command.
What if there is no beep?
This means that QelviQ has not been able to detect the bottle.
In exceptional cases this could mean that the bottle detector no longer works. The best way to test this is to put another bottle into QelviQ and see if this problem still exists. If it is only with a single wine bottle, the bottom of the bottle may not fit properly on the bottle detector. Then QelviQ cannot initiate the cooling process.
Do I need the app to operate QelviQ?
Yes, QelviQ can only be activated with the app.
When QelviQ has started, you can continue without the app because the beeps and light indicate when the wine is at the ideal temperature. 3 beeps and green light indicate that the wine is at temperature. You can still follow the correct temperature on the app.
How can I stop QelviQ?
QelviQ can stop in 2 ways
*If you enter the command 'stop QelviQ' on the app, QelviQ will stop the heating process.
*If you do not insert a bottle into QelviQ for 5 minutes, the device will go to standby mode and the existing command will stop.
Why do I have to re-enter a bottle if I haven't inserted a bottle for several minutes?
We launch the eco mode that starts when you have not inserted a bottle for more than 5 minutes.
If you have taken that bottle out and put it back in within 5 minutes, QelviQ will assume it is still the same bottle and will rely on the temperature associated with that bottle.
How is it possible that my appliance shuts down while
cooling?
This is only possible if you remove the bottle and do not put it back in properly. It is crucial that you ensure that you put the device back into QelviQ properly. Specifically, this means that you hear the beep. If you notice
that the appliance stops cooling - you notice this when the top fan stops running - you must adjust the bottle so that you hear the beep.
What is the measurement for?
The measurement process is crucial to calculate the starting temperature.
How long does the measurement take?
The measurement takes a little longer than 2 minutes. This is necessary because the temperature sensors must accurately measure all external factors such as outside temperature as well as take into account temperature differences between different bottles that are inserted one after the other.
Is the temperature on the app screen an exact representation of the temperature?
Ask Qelviq shows temperatures:
After the measurement process, the first temperature display appears. This is an estimation. We use 3 sensors that launch a calculation in QelviQ to determine the correct temperature at the start.
Then an algorithm is used to calculate the temperature evolution and displays this on the screen. This is an estimate that comes close to reality.
All sensors and all algorithms aim to calculate a perfect final
temperature that will deviate a maximum of 0.6 °C or 1 °F from the real temperature, but usually displays exactly the right temperature.
QelviQ uses 3 measuring points and is therefore the most accurate representation of the wine temperature, especially compared to wine cabinets that only work with the 'ambient' temperature.
What does it mean when a very
high temperature appears on the app?
This means that there is a hardware problem. Please contact QelviQ at customercare@qelviq.com
Is the number of minutes on the screen an exact representation?
This is an estimation based on the algorithms and sensor measurements of 3 temperature points in QelviQ.
Does 'Ask QelviQ' answer all wine questions?
The 'give advice' function answers all questions with the exception of advice on specific wines and wine shops. We answer general questions related to the wine world such as 'What are the best champagne years'
How long does it take for a sommelier to get back to me with feedback on my questions?
Depending on the question, this takes between 12 and 36 hours for general wine questions. For questions about temperatures, we provide a maximum time of 12 hours. Usually this will be much shorter, between a few minutes and an hour.
What should I do if 'Ask QelviQ' does not recognize the wine?
You can achieve the ideal serving temperature in 2 ways:
*You try again with the command 'retry'.
*You send the wine to our sommelier service with the command 'ask our sommelier'. Our sommeliers will look up this temperature for you and send you an advice within an acceptable time depending on the time of shipment.
If you have not yet received the correct advice from us, you can always use the manual mode and enter a temperature yourself.
What is manual mode?
If you know the ideal temperature yourself or if the app does not
recognize the wine and you already want to enter an order, you can use this mode.
Can I also buy wines via QelviQ?
This service is today limited to a few territories that you find in the
app.
How many bottles can I include in the wine stock?
You have the option to include up to 500 different bottles in your inventory.
I can't find any advice for the ideal dish with my wine? Why is that?
Our database is constantly being enriched. We provide food pairing advice for 90% of the terroirs and wine grapes. During the following months you
can expect updates for the missing terroirs and grapes.
After taking a picture of the bottle the cursor keeps
going around saying it's analyzing but it won't connect. What should I do?
This most likely means that you don't have a good connection. Please try again when you have a better connection.
If you still cannot take the photo, it is advisable to log out of the app
I can't remember my password. What should I do?
It is important to keep track of your password. Of course you can always use your Google or Apple account to gain access to QelviQ
QelviQ itself does not keep any passwords. We are currently working out a procedure to solve the problem of lost passwords.
How do I change my settings?
In the top bar at the top right you will find access to the settings where you can adjust the language and also the temperature display between °C and °F.
QelviQ is continuously improving. These improvements are communicated via firmware updates. You can compare the 'firmware' with QelviQ's 'operating system'.
The app tells me I need a firmware update, what should
I do?
You must follow the instructions on the screen. QelviQ can update the firmware via a WiFi connection. A strong Wi-Fi signal will speed up the
process.
#1 THE BEST SERVING TEMPERATURE FOR EVERY WINE
We are working with a group of top sommeliers to get you the best advice possible. They are looking at where the wine was produced, what region it came from, what grapes were used, what the producers notes were and many more factors to make sure you can enjoy your wine in the perfect condition.
It is a ongoing process thanks to the community of wine lovers. Whenever the app does not recognize a wine, you can use our 24/7 sommelier service and send us the label. We will make sure it gets added to our database. Currently we have more than 80.000 winemakers covering 1400 regions or "terroirs" and over 500+ grapes in our database. This covers more than 95% of the global market.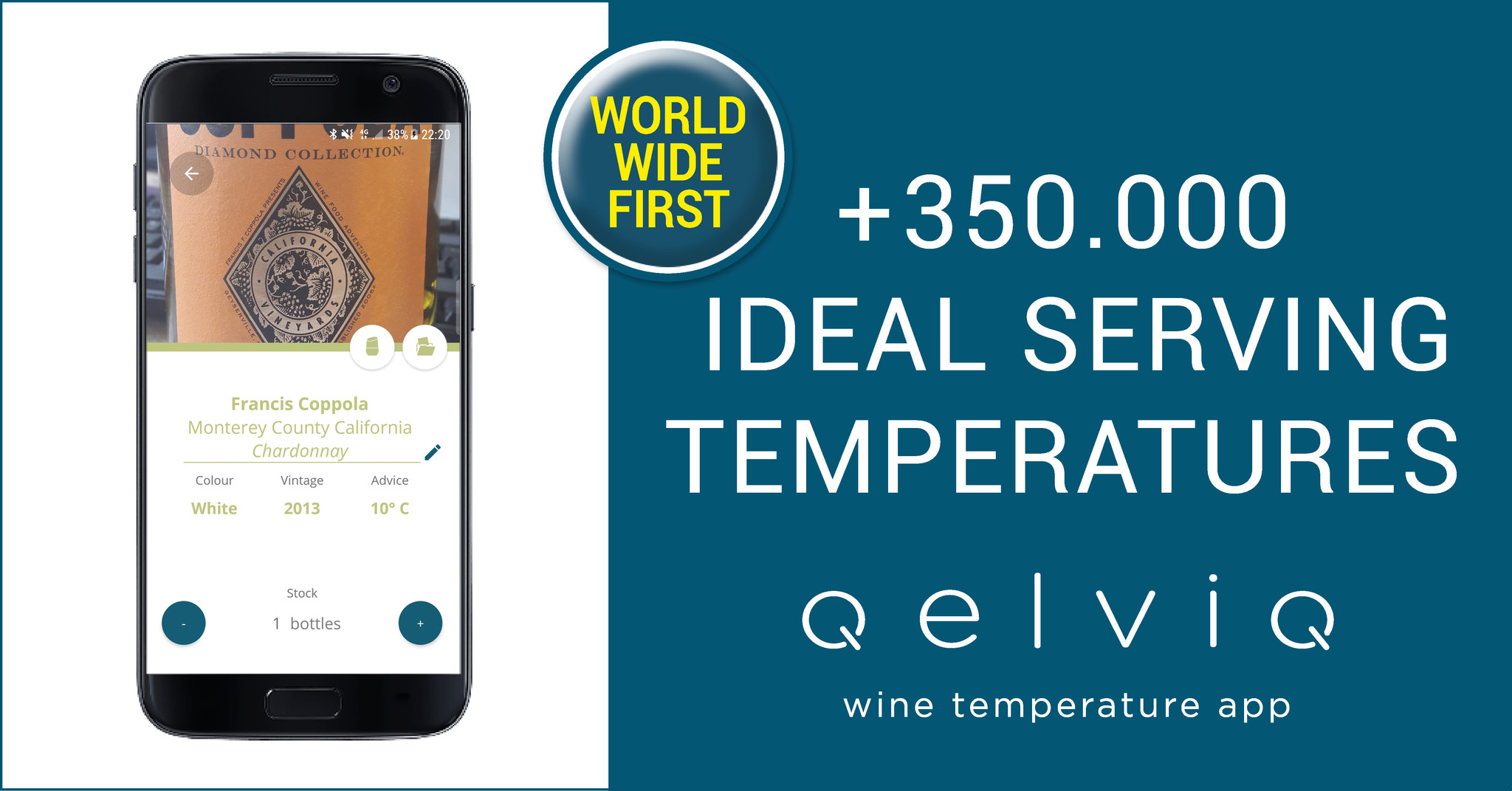 #2 WINE2FOOD AND FOOD2WINE ADVICE
You don't know what meal to best serve with this beautiful bottle of wine you have been wanting to open on that special occasion? We have the solution : take a photo of the wine and we will give you some ideas. Based on 9 wine styles we offer a choice of 11 kitchen styles, meal types and of course Veggie, Fish or Meat options. We currently have 220 dishes in our database and it is ever growing.
#3 24/7 SOMMELIER SERVICE
In addition we provide a free service that enables you to send us a message asking for the right serving temperature of any particular wine, just in case the app wasn't able to retrieve it.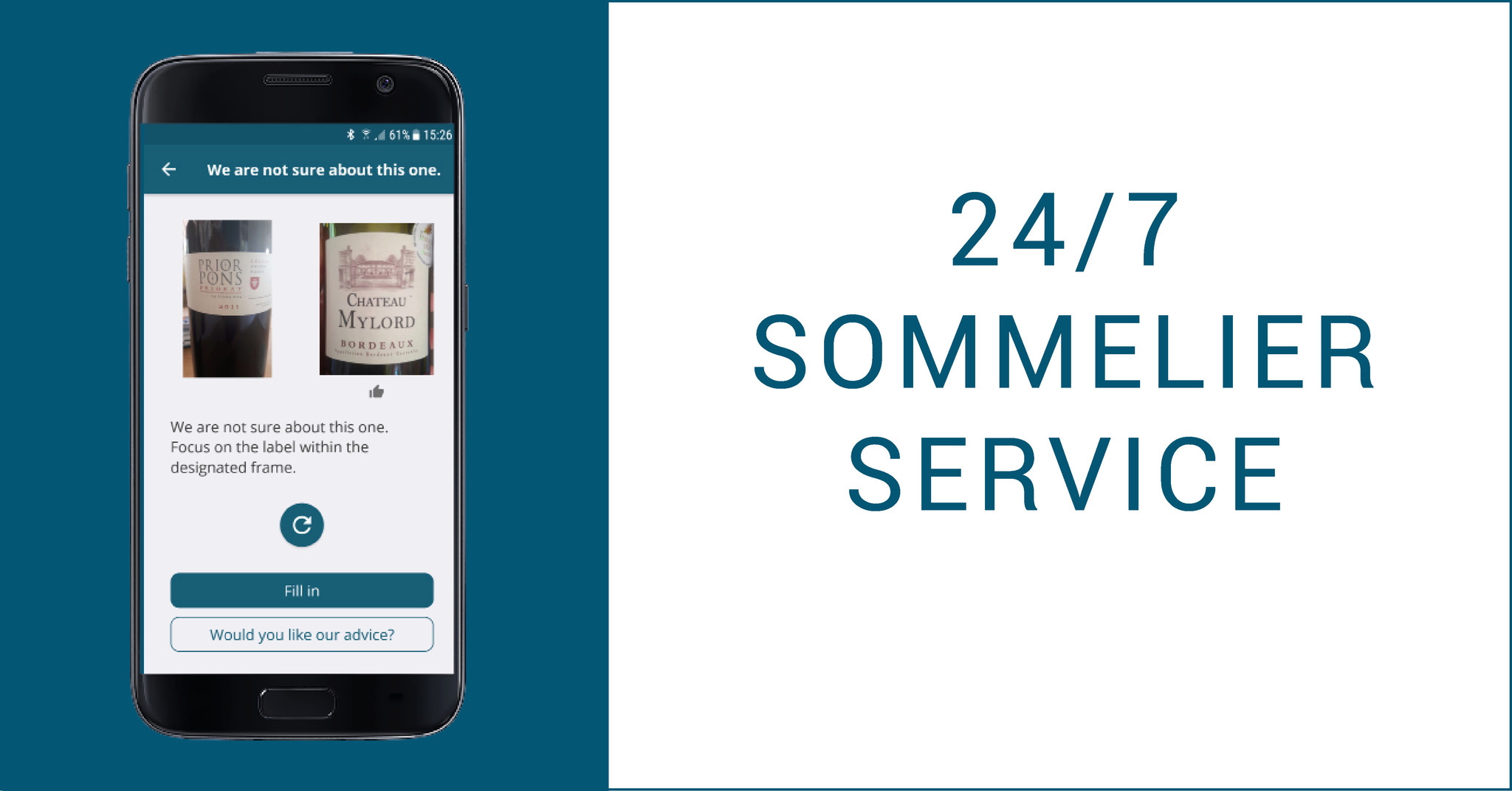 #4 PERSONAL INVENTORY
The QelviQ app has 3 user friendly functions that will help you to store all your wines in a digital format
It has a search function so you find your favorite wine faster
It allows you to easily track the number of bottles you have of each wine.
It allows you to archive wines you might not have in stock but don't want to forget about for future purchases.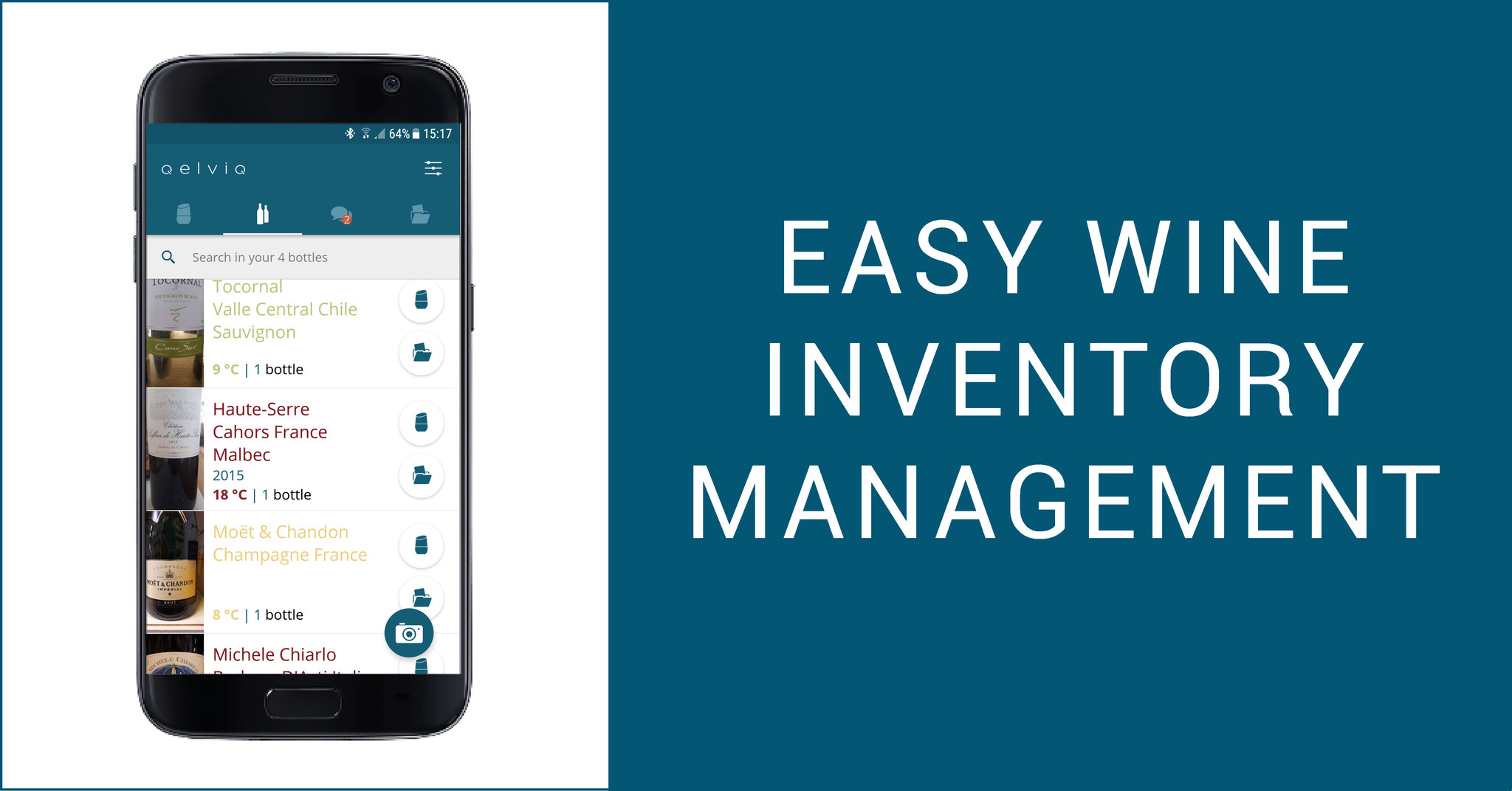 #5 ADAPT TO YOUR TASTE
Change the serving temperature according to your taste and you can do this either through the QelviQ App:
when you scan the wine, QelviQ will advice you of the ideal serving temperature. But you can easily change the temperature if you prefer the wine warmer or colder.
when you serve the wine: even if it is programmed according to the sommelier's advice you can change it to suit your taste.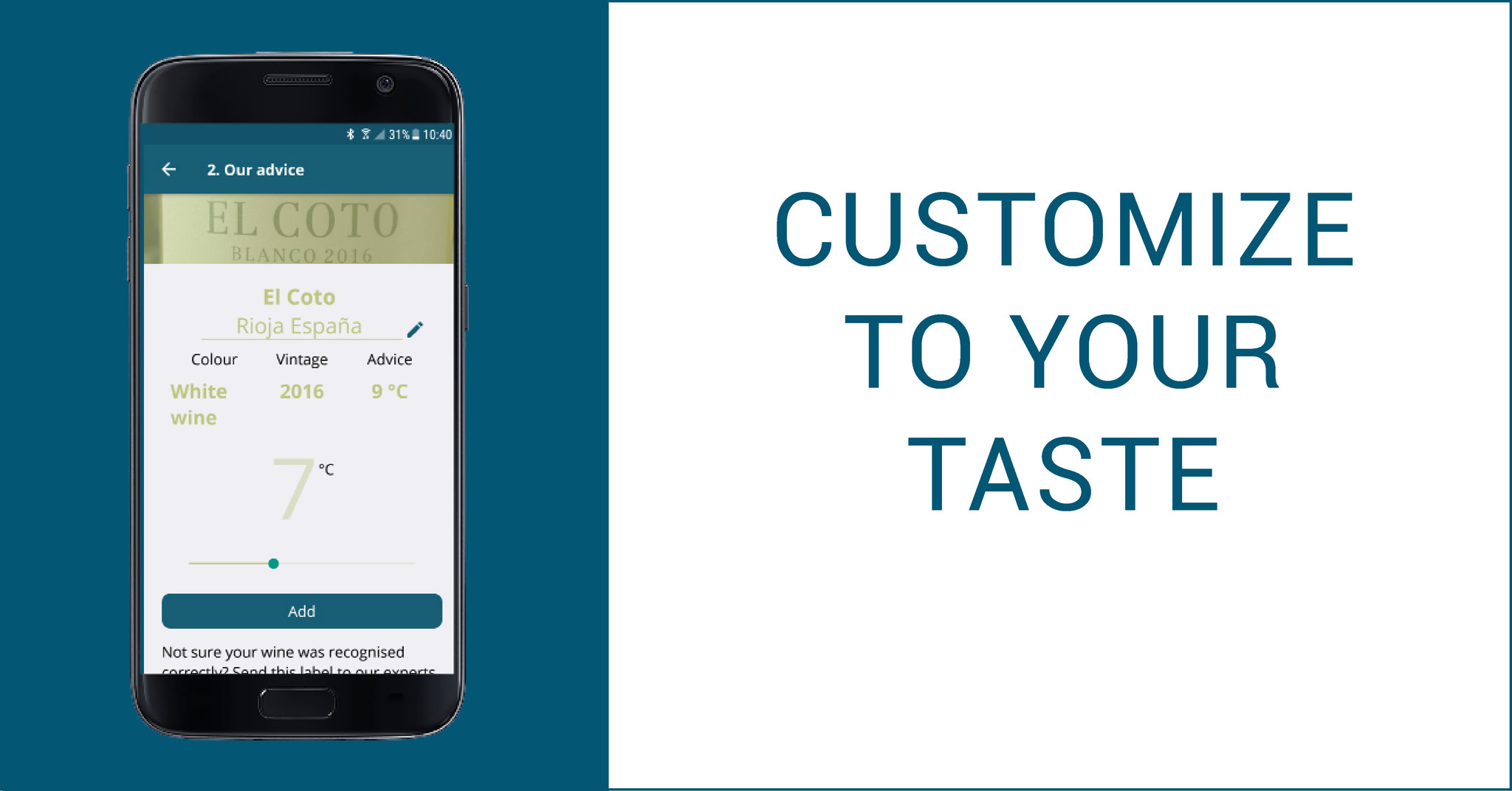 #6 GOOGLE CLOUD TECHNOLOGY
We use different technologies to build our extensive database of wines including Image Recognition Technology, which scans and compares labels, and Optical Character Recognition, which analyzes and detects characters and words. Through the Google Cloud Vision platform we ensure the data stays up to date.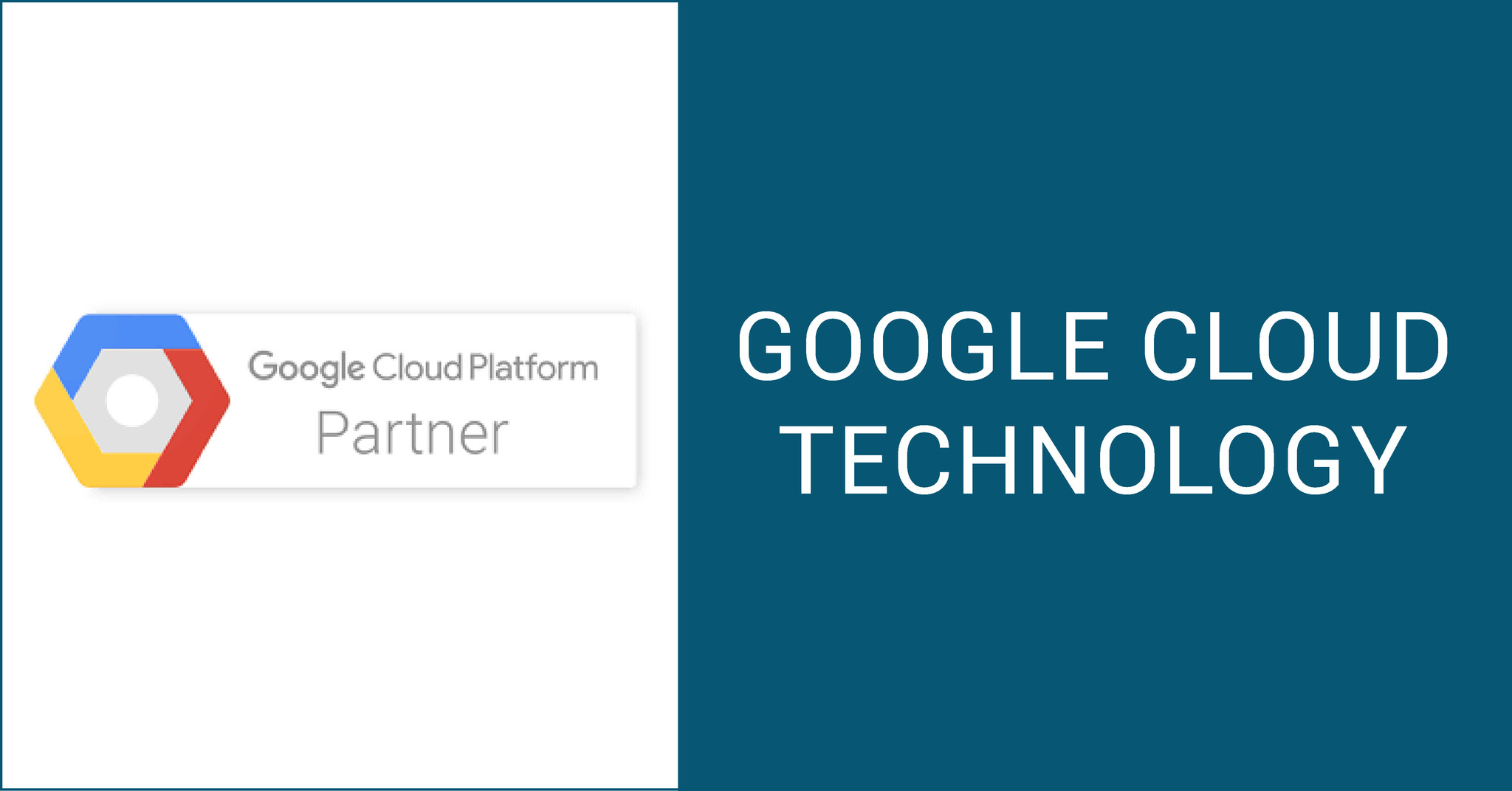 #7 ARCHIVE BACK UP
The archive function will enable you to keep track of wines you no longer have in stock but still want to enjoy on a later occasion.
#8 SEVEN LANGUAGES + °C/°F
The App is available in 7 languages so it makes it extra easy to use the app. The following languages are available: English, French, Spanish, Chinese, German, Italian and Dutch.
Temperatures are either in Celsius or Fahrenheit, according to your preference.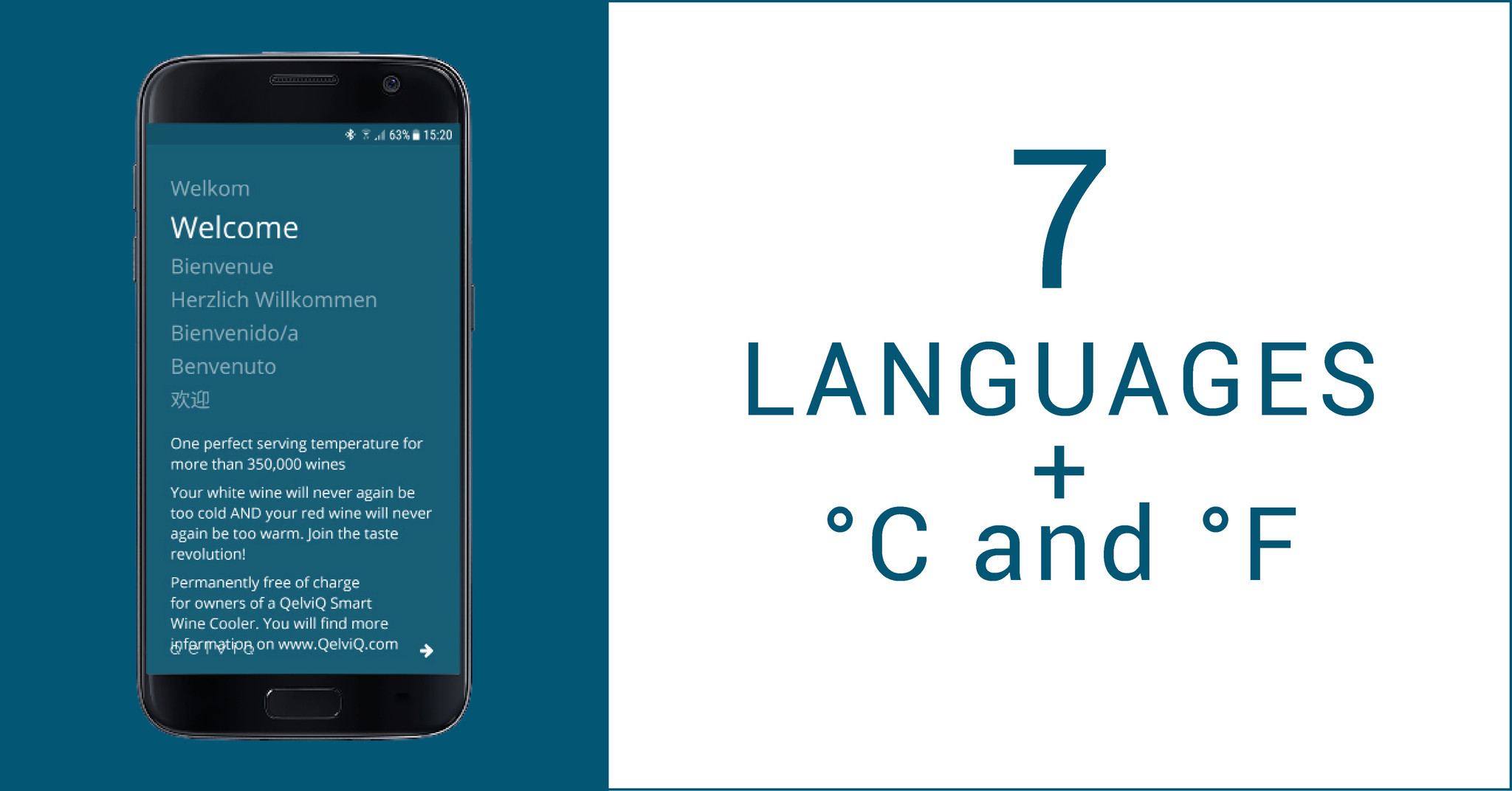 #9 APPLE AND ANDROID STORE
The app is available in the App Store and in the Google Play Store. Simply search for QelviQ and you will be able to download the app.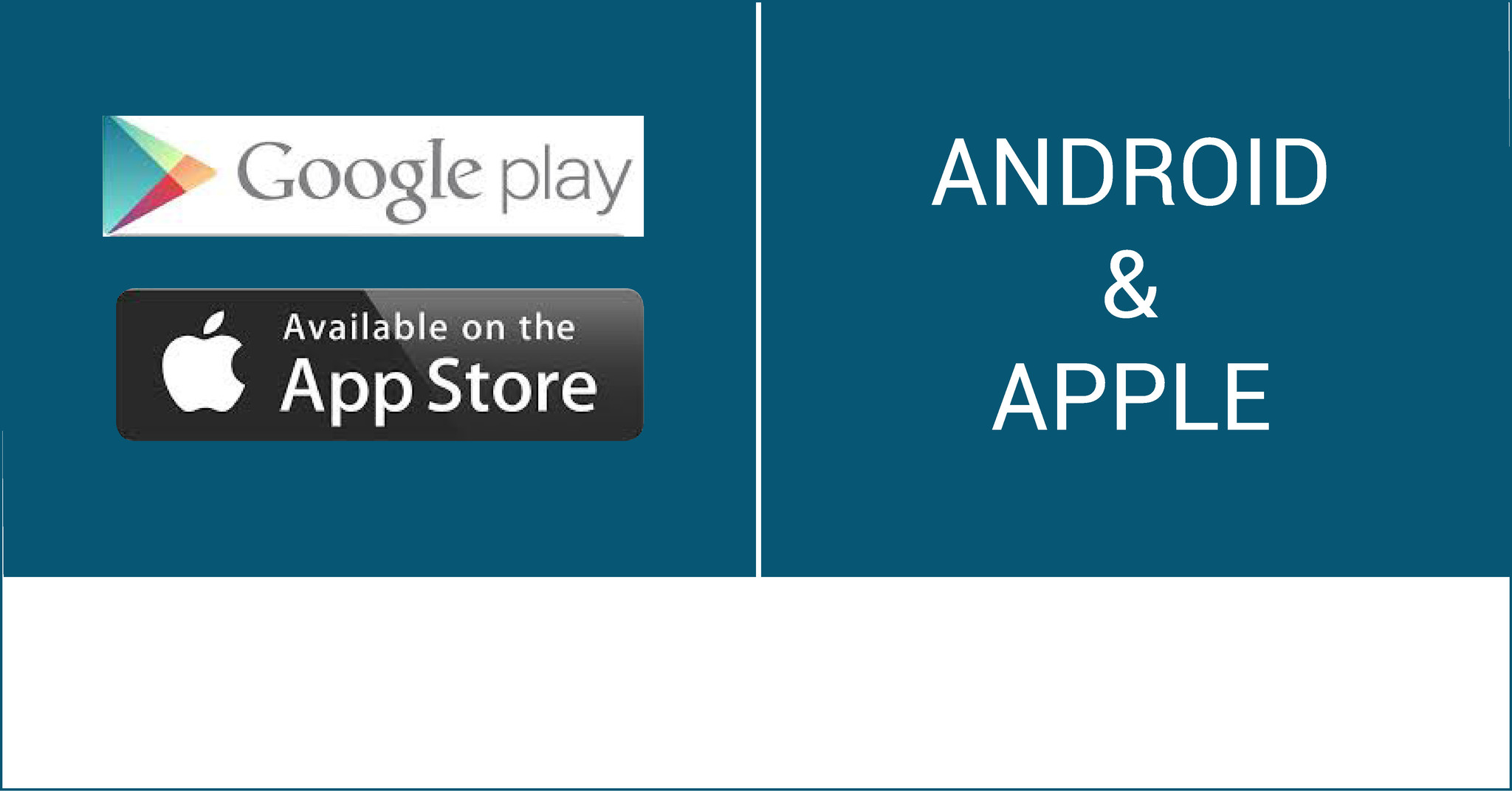 If I have a wine refrigerator or cellar, is QelviQ useful?
QelviQ is the ideal add-on to your cooler or cellar as it helps you serve the wine in the best condition possible. QelviQ is the perfect solution for the "last mile" of your wine's journey.
If I want to cool a bottle I just bought, would that be possible?
Yes, this is possible, an of 2°C each 10 minutes. We advise you to keep your wine at an ideal storage temperature (between 10°C and 16°C), which is much better for the quality and health of your wine.
If you keep your wine at the correct storage temperature then QelviQ will just bring your wine to its optimal serving temperature.
How fast does it cool?
Our Qool Booster cap in combination with our rubber holder takes care that there is no cold air lost. Our product engineers have come up with 4 solutions to ensure QelviQ cools your wine up to 3.5 times faster than your average wine refrigerator.
We have invested in a high performance heatsink, which enables us to power the device up to 110 watt, which is more than double that of small coolers that have to cool up to 6 bottles with half the power!
We have developed a unique customized cold sink that holds the cold longer than any other cooler and saves energy. In addition there is a special silent fan that takes care of the right airflow.
The QelviQ can cool up to 2°C per 10 minutes compared to 0.4°C of a normal fridge. A good bottle of red takes about 20 to 30 minutes and it will take a little longer for white and rosé.
If your wine is already chilled, you can use the QelviQ immediately with no waiting time!
Does it make noise?
Yes there is some noise, similarly to what an average fridge sounds like. The Qool cap will however dampen the sound so use it whenever you can (or want).